Classical guitars
Standard Classical guitars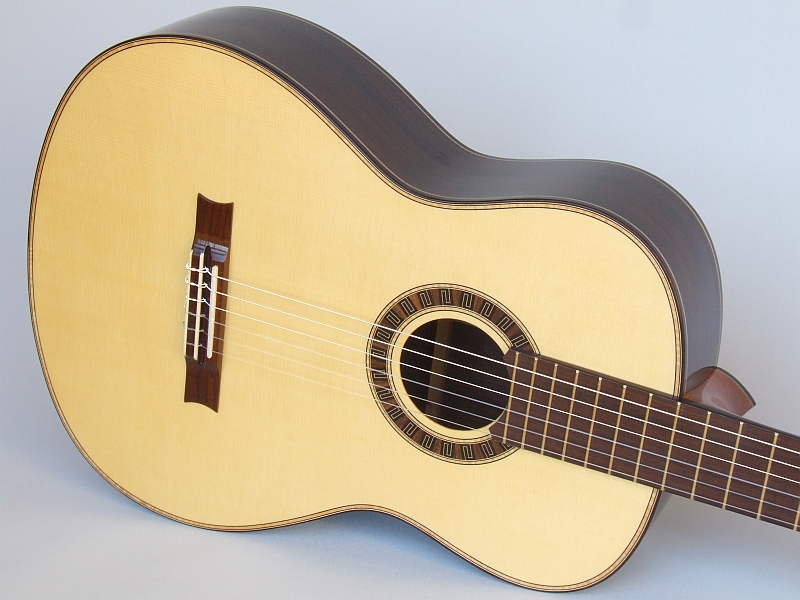 My "standard" classical guitars have a conventional "classical" guitar shape, but as a custom builder I offer a choice of bracing structures, timbers and rosettes.
For the traditionalist, this guitar can be braced in the asymmetric Fleta style to give an articulate and powerful guitar in the great Barcelona tradition.
When braced in my falcate style and fitted with an ultra-low mass bridge, the sound is powerfully classical with great tone colour and projection.
Using a spruce top, the articulation and note separation is extraordinary, whilst a cedar top can deliver a brighter sound due to its inherently lower damping. However with either top wood, the first string is bell-like in its clarity.
Please see the photo gallery for more pictures. A video of Matt Semmens playing a standard sized classical guitar is available here and an uncompressed sound file of the same performance is available here (complete with background traffic noise!).
Neo-Classical guitars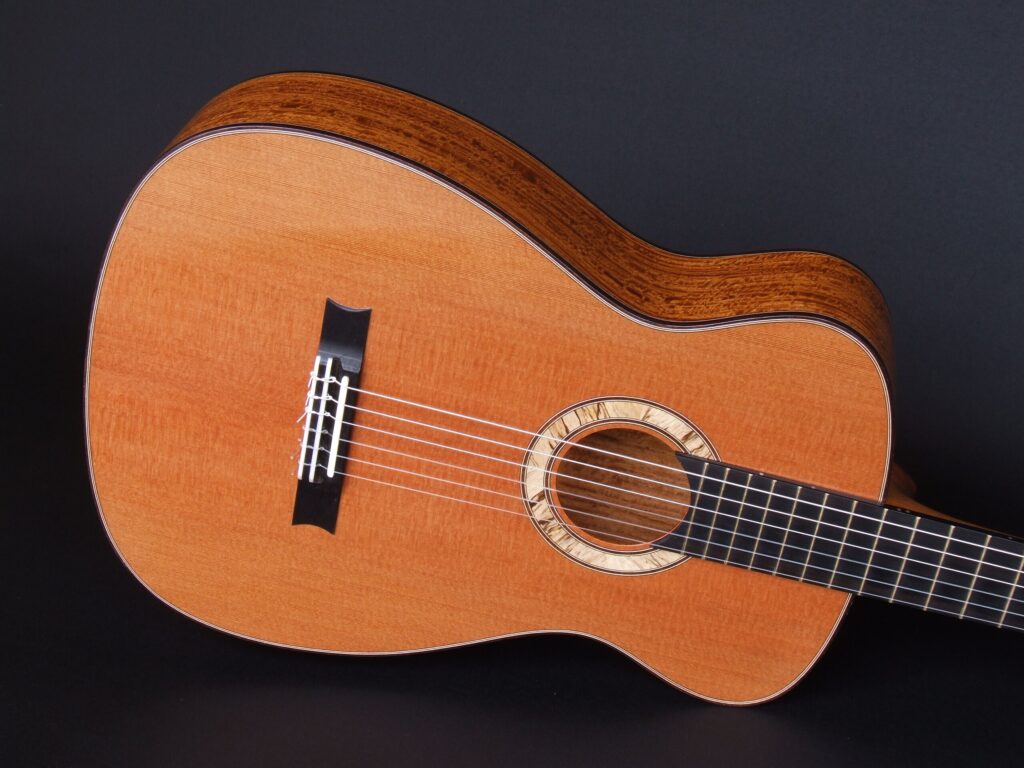 The Neo-Classical custom guitar is an instrument for players wanting a classical guitar with a difference. This body shape places the waist higher, towards the neck, bringing the left hand closer to the body, thus reducing the stress on the fretting hand, arm and shoulder.
Because I can use a very low mass bridge with this custom design, the total effective mass of the top is lower than most conventional classical guitars. This means that my guitars have tops with a higher excursion and so you shift more air for less player effort.
This guitar is normally braced in my falcate style, optimised for a balance of power and sensitivity that appeals to many classical players. The tone is best described as being of the Spanish genre, but with greater volume and projection without sacrificing the guitar's tonal versatility and clarity in the trebles. See the photo gallery for more pictures.
The remarkably versatile Matt Semmens can be heard playing his arrangement of Roland Dyen's "Tango en Skai", (13Mb of uncompressed sound file) on a similar neo-classical guitar and also the rather eclectic "Farruca", a great piece if you want to put a guitar through its paces.
Small Body Classical guitars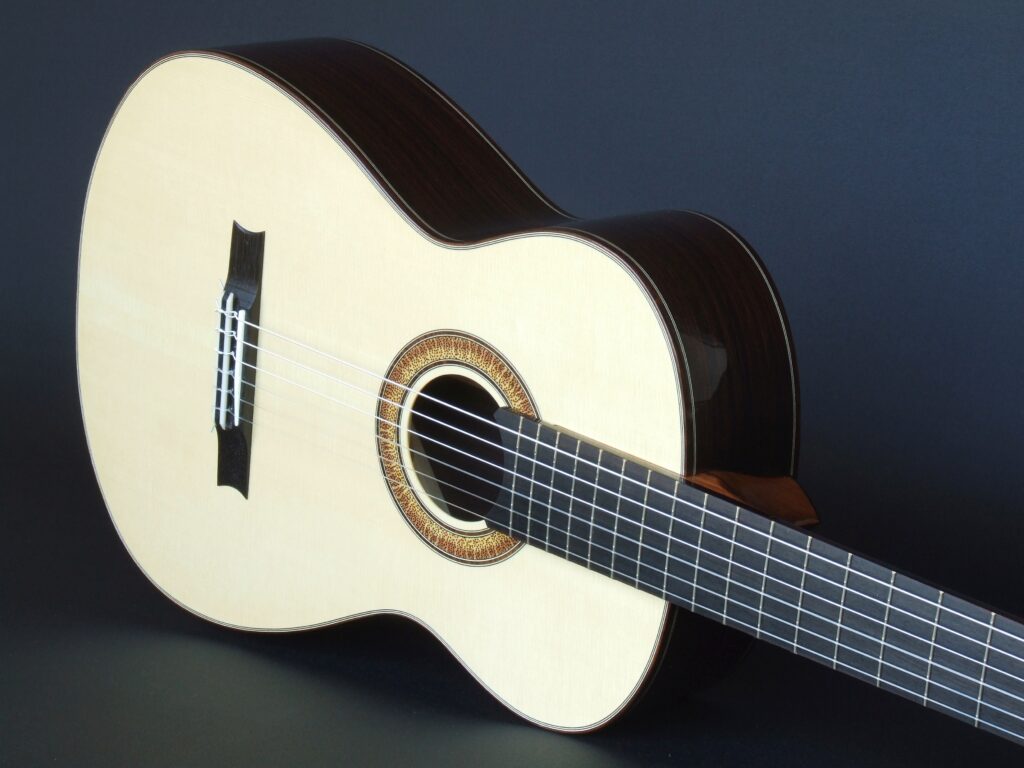 Torres is generally regarded as the man who defined the size of the classical guitar as we know it today. However, he made guitars in numerous sizes and there is no consensus that the larger sizes, which we now call "standard", were any more powerful than the smaller ones.
I have long been of the view that many guitars are "too big for their own good" in that the extra mass required in the structure of a larger sound board, that reduces its acceleration, is not adequately compensated for by the increase in sound radiating surface.
After careful modelling and experimentation, I designed my small body classical, which is some 25mm narrower across the lower bout than standard sized guitars, but has a louder, more projecting voice which is both sweet and colourful.
I typically build this guitar with a user-adjustable neck angle and an adjustable truss rod, which makes it perfect if you're a traveling musician who needs a guitar that can always have your perfect setup dialled in, independent of your location and climatic conditions.
Being a smaller guitar, it is also well suited to smaller people (as well as larger ones) so you no longer have to suffer the discomfort of a standard sized guitar or the performance compromises of typical smaller instruments.
The guitar can be falcate braced for an emphasis on power, or lattice braced for an emphasis on sensitivity. See the photo gallery for more pictures. You can watch a video of Matt Semmens playing a small body classical here, with an uncompressed sound file here.
Classical sound samples
Standard Sized Classical – sound samples
This guitar has a falcate braced Engelmann spruce top and Brazilian rosewood back and sides and is played by Matt Semmens. This video has the usual MP4 compressed sound quality. For the audiophiles, a FLAC file is available here.
Neo-classical sound samples
The neo-classical guitar used for this recording has a western red cedar top, with Indian rosewood back and sides, ebony fretboard and ultra-low mass bridge. I braced it in the falcate style with a live back. I added mass loaded sides and has nut and saddle compensation for its mix of Hannabach and Savarez strings.
The remarkably versatile Matt Semmens can be heard playing his arrangement of Roland Dyen's "Tango en Skai", (13Mb of uncompressed sound file) and also the rather eclectic "Farruca" (12Mb) , a great piece if you want to put a guitar through its paces.
Matt recorded the guitar using a pair of large diaphragm condenser mics. He placed one about three feet from the lower bout at about 45 degrees to the butt of the guitar, the other a little squarer to the lower bout. There are no effects and no equalisation on this recording.
Small body classical sound samples
As you can see, this small body classical guitar has a spruce top and Indian rosewood back and sides. I created the tilt-neck mechanism whereby you, using no tools, can adjust the height of the strings above the fretboard in about 5 seconds. Here, you can see Matt is playing with the action set fairly low. You can watch an uncompressed sound file of the same performance is available here.
Steel String guitars
Medium sized steel string (390mm lower bout)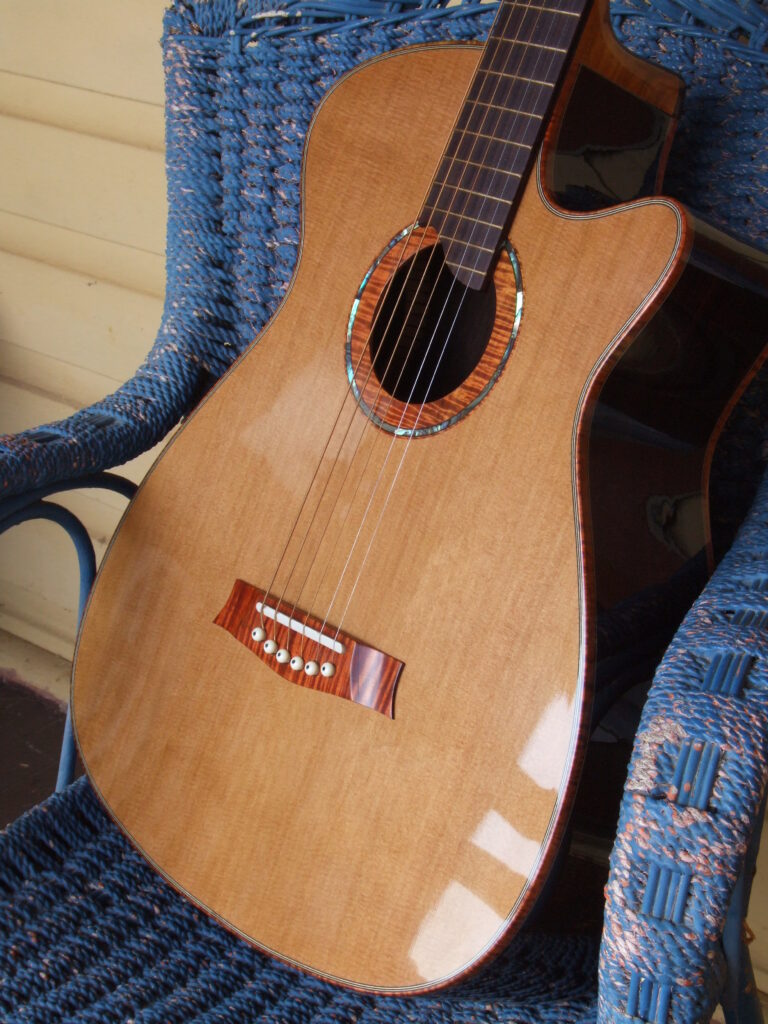 My favourite style of steel string guitar is the "steel string concert classical", the ultimate finger-style guitar with volume, projection, sustain, clarity and separation in spades. Well played, these guitars sound like a small orchestra.
This is a guitar that is optimised for finger-picking, with a neck width between the normal steel string sizes and the normal classical guitar sizes. Like all the great finger-picking guitars, it has a 12th fret neck join and comes with a cutaway as standard, so that you can still reach all the high notes easily.
This guitar is extraordinarily responsive, producing far more sound than you can ever get out of a standard Dreadnought style guitar using only your fingernails. Both the nut and saddle are compensated using specialised techniques that I have developed, which can be customised to the type of strings you want and set-up that you prefer.
Consequently, you can play in-tune to the equally tempered scale with much greater accuracy than standard guitars. Until you've heard the difference, you don't know what you're missing, and there's no going back!
All those beautiful jazz chord voicings sound distinctly different, rather than just being vaguely dissonant. If you're a classical guitarist looking for a different sound, you will love it.
The tops can be French polished (like the one above) or finished with nitrocellulose lacquer. Please see the photo gallery for more pictures. A video of this model being played by Bruce Mathiske is available here, and an uncompressed sound file is here.
Retro medium sized steel string (390mm lower bout)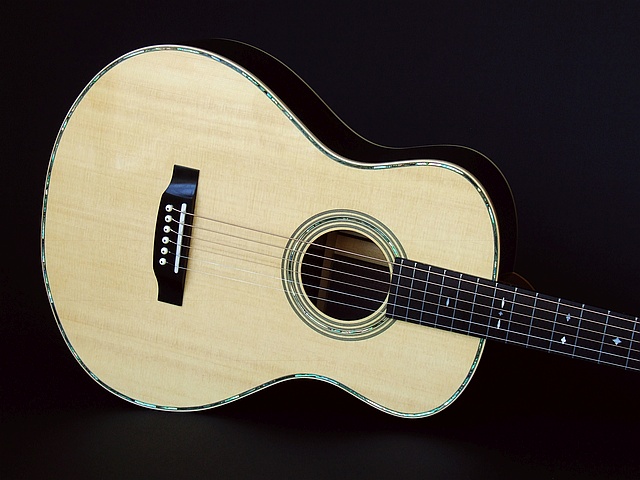 The retro medium sized steel string guitar has all the attributes of its medium sized sibling above, but in a retro body shape reminiscent of the rounder lower bouts of yesteryear.
The styling is typically complemented with classically restrained pearl inlays and slot-head tuners. However, beneath the skin it can be in every way as modern as its more contemporarily shaped cousins.
It delivers you an alluringly rich sound, well suited to finger picking styles, when falcate braced but you can also order it X-braced for those of you who wish to continue the retro theme into a retro sound. With my custom compensated nut and saddle as standard, it plays beautifully in-tune to the equal tempered scale.
Small bodied steel string (360mm lower bout)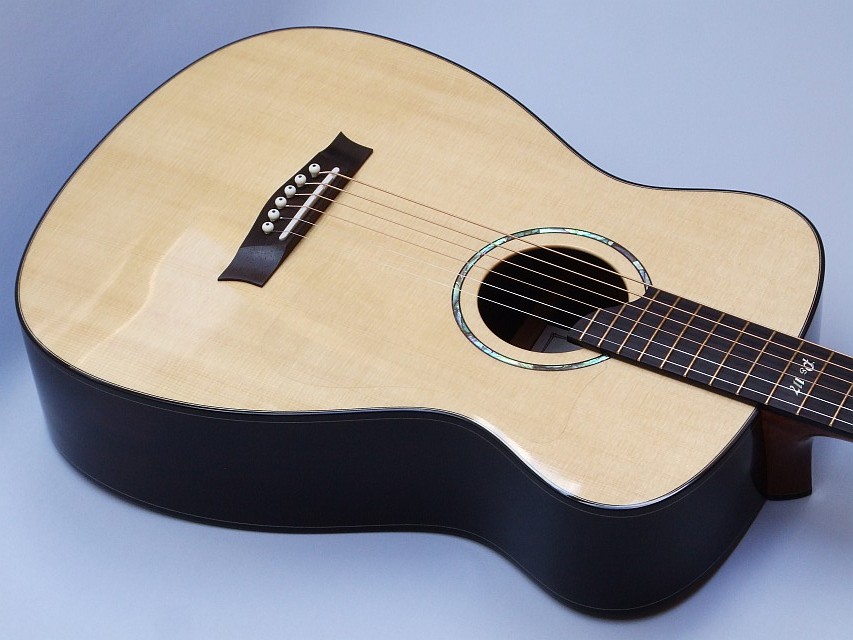 The small bodied guitar can be built to suit a number of purposes. I can voice it almost identically to the medium bodied guitar, if prefer a smaller instrument and you're seeking that tonality. Alternatively, I can voice it at a higher pitch to generate the more typical "middley" projecting tone that blues players tend to favour. The choice is yours.
With or without a cutaway, this guitar normally features carbon fibre reinforced falcate bracing for sensitivity and volume, an active back to give you additional tone colour, and mass loaded sides which contribute significantly to the instrument's projection. Both the nut and saddle are compensated.
If you require a stage guitar using a pick-up rather than a mic, stiffer lattice bracing can be used which helps to keep unwanted acoustic feedback under control.
Concert "super-parlour" steel string (340mm lower bout)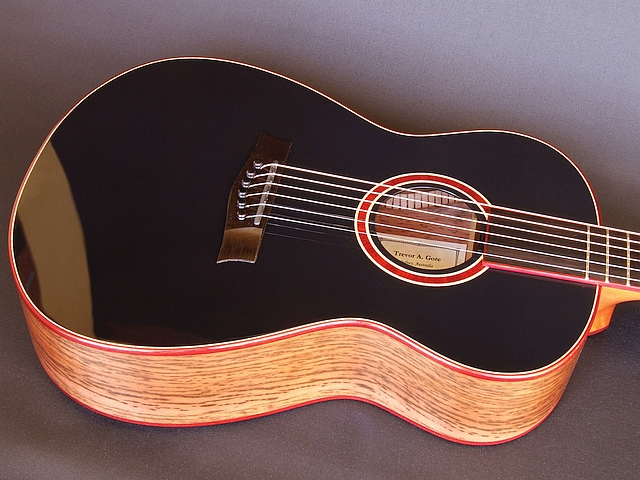 I've frequently argued that many guitars are "too big for their own good", meaning that for a given "engine size" (the gauge and length of the strings), higher performance comes in lower mass packages.
This is as true for well-designed guitars as it is for well-designed cars. There are not many scale lengths and string sets that are usable on a guitar, so nearly everyone has the same sized "engine", regardless of whether they're driving a SUV or a moped. So a well-designed small guitar can have a much lower mass soundboard than a larger guitar because the mass goes up as the cube of the linear dimensions.
The lighter soundboard has a higher acceleration when driven by the string forces and is louder, because the sound output is proportional to the soundboard acceleration.
Whilst you can't expect the same depth of bass available from a larger guitar, there is no shortage of it, and it can still be voiced for a large guitar sound.
If you are small in stature, or just like smaller guitars, this is a perfect choice for you. It punches well above its weight.
Steel String sound samples
Medium sized steel string – sound samples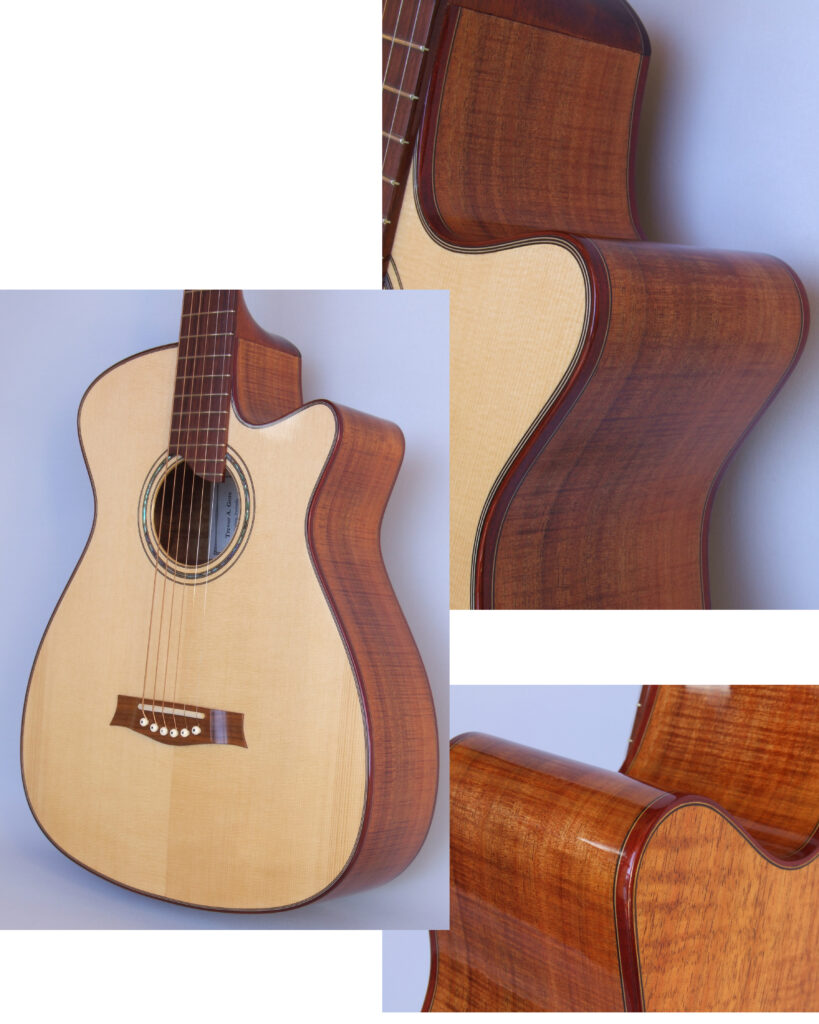 This guitar, left, has an Engelmann spruce top, figured Australian blackwood back and sides, bloodwood binding, mahogany neck and a Madagascar rosewood fretboard. It is a fairly typical version of my "steel string concert classical" medium sized guitar.

The guy who you can hear playing it happens to live just up the road and is the prodigiously talented Danny Ross.
Danny Ross
Here he can be heard performing his arrangement of British folk/blues legend Davey Graham's composition "Buffalo" (13Mb of FLAC file), and, for a tune with a different feel "Jasmine" (16Mb of FLAC file).

Danny plays with his fingertips (no nails) and recorded these tracks using an orthogonal stereo pair of mics on the treble side of the 15th fret. There are no effects and there is no equalisation. The strings were Martin SP+ 12-54.
This guitar, right, is another manifestation of my "steel string concert classical", this time in Sitka spruce and bloodwood (brosimum rubescens). Unlike the blackwood guitar above, I modelled this with mass loaded sides which contribute to its depth of tone and its penetrating projection, making the guitar sound as if it has its own built in reverb.

You can hear this guitar by clicking on this link to "Affirmation", written by Jose Feliciano (13Mb of FLAC file). This amazing performance is by Matt Semmens. Matt is from Newcastle, NSW, a couple of hours north of Sydney where he is involved in everything to do with guitars.
Matt was classically trained, but plays a wide variety of musical styles. Matt recorded the guitar using a pair of large diaphragm condenser mics, one placed about two feet from the lower bout, the other up by the neck.
There are no effects (definitely no reverb!) and no equalisation. The string were D'Addario phosphor bronze 12-53.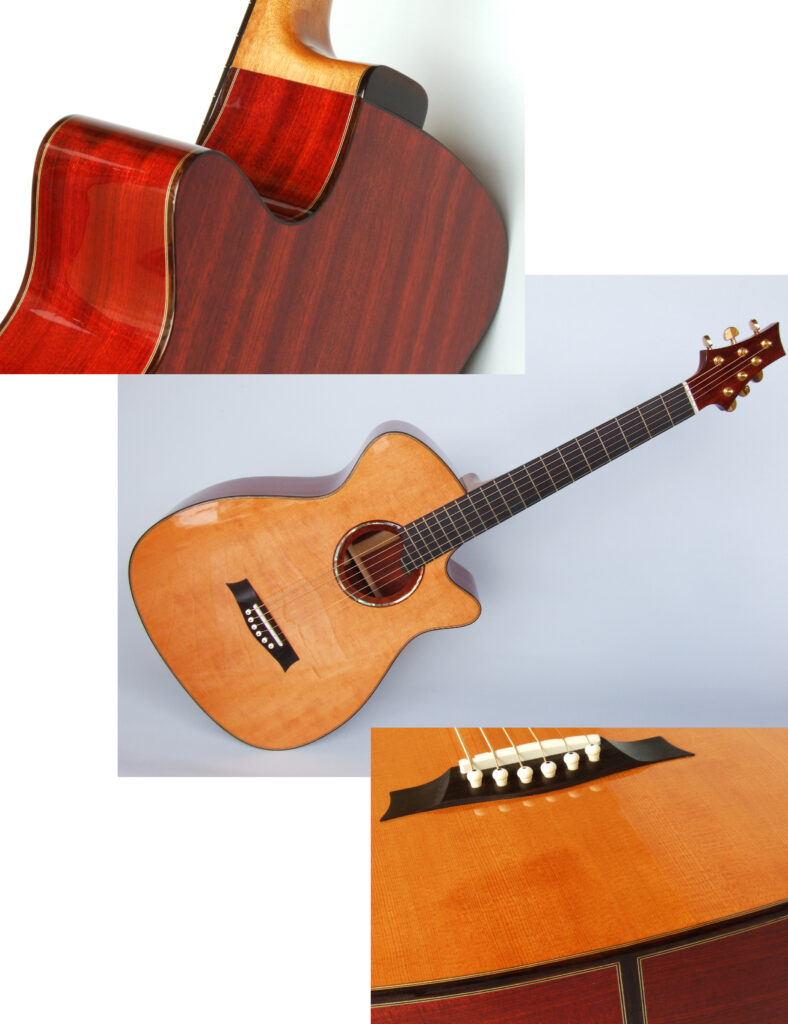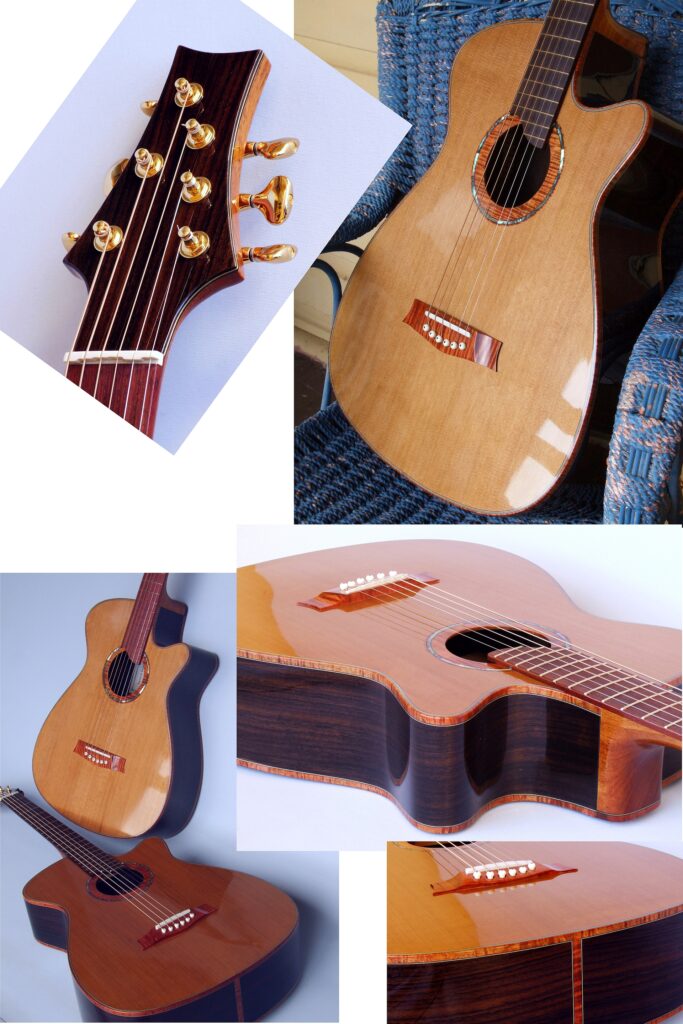 I always try to have a cedar/rosewood steel string concert classical available for your immediate purchase as they are such great sounding guitars.

The usual street wisdom is that cedar guitars have a darker sound. Not so! Western red cedar is typically lower damping and lower density than any type of spruce, which makes for a lower mass top with high monopole mobility (i.e. uber responsive).

The lower damping means that the treble strings on the upper frets have a beautiful chime to them, making for an outstanding guitar the really suits finger pickers.

Here's Bruce Mathiske letting loose on one. As online videos tend to squash the sound somewhat, here is a FLAC file, which, at least in theory, should make for more realistic sound quality.
Small body steel string sound samples
This small body steel string guitar was built using a Pacific Rim Tonewoods (PRT) sonically graded top, and is played here by the amazing Miroslav Tadić.
In the following video Miroslav is joined by the very talented Yvette Holzwarth on violin and vocals for a spine-tingling rendition of Wayfaring Stranger.
Many thanks to Steve McMinn and Eric Warner of PRT and to Miroslav Tadić and Yvette Holzwarth for allowing me to post these videos.
A futher video of Miroslav and Yvette in concert can be found here.
More footage of Miroslav playing similar guitars can be found here.
"The Shed" Guitar
Numerous high profile builders have made guitars out of "strange" materials, starting with the legendary Antonio de Torres who used cardboard for one of his instrument's back and sides, back in 1862.
Others have variously used timber salvaged from wooden pallets, distillery washback vessels, whiskey casks and construction grade pine.
So when I renovated my old cottage ("The Shed") about 20 years ago, I set myself the challenge of one day making a guitar using only timber salvaged from the renovations.
Being able to get the most out of non-traditional timbers has been elevated in importance as both the sourcing of traditional timbers and the difficulty in ascertaining their provenance is becoming more complex daily.
It was also an opportunity to run a "proof of concept" test on the design methodologies in the book. Could a good guitar be made from less-than-best materials?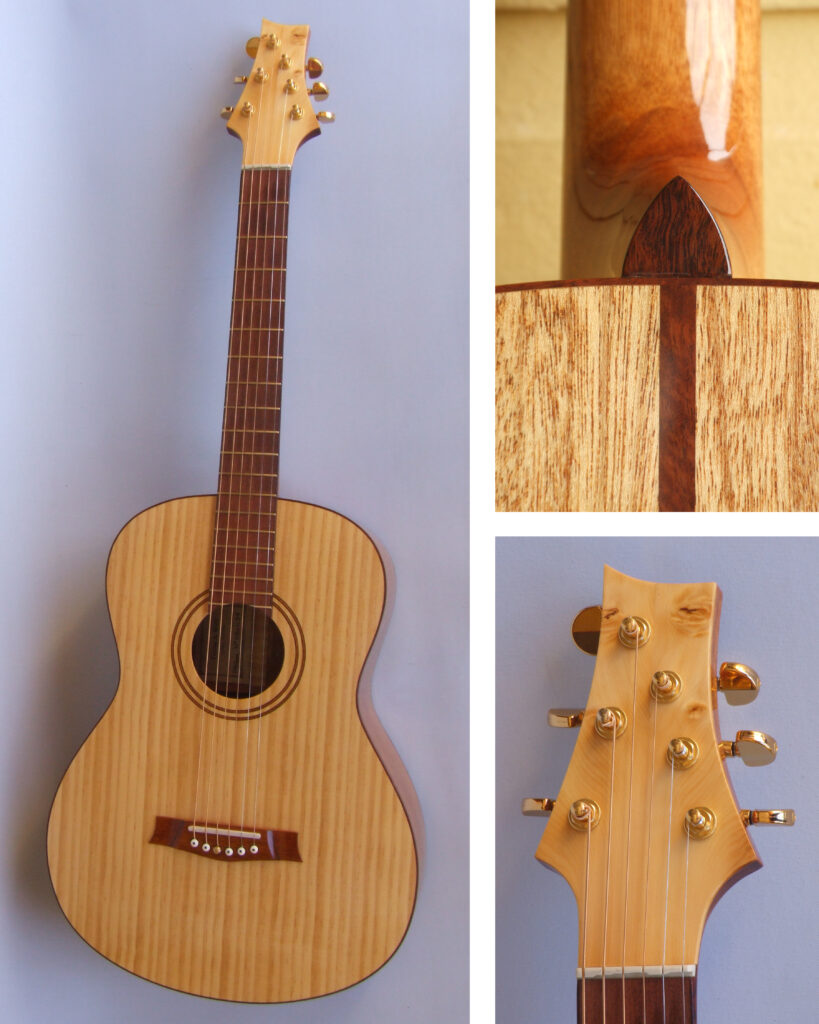 The making of "The Shed" guitar
"The Shed" guitar was built to answer that question. It has a radiata pine five piece top made from some old bunk beds, a four piece meranti back and sides made from shelves from a kitchen cupboard, Oregon pine bracing from the old dunny door, and a meranti neck from another kitchen shelf. I love repurposing junky materials!
The trim, such as it is, is very simple: the rosette was split from a piece of firewood that had some figure in it, with black cardboard forming the dark lines; the bindings and back centre strip are some figured jarrah from an old fence paling and the headstock facing is Huon pine from the ends of a broken spice rack.
The fretboard is brush box from the bottom plate of a stud wall that I removed. The fretboard edge markers are from a pair of 3mm aluminium knitting needles found in the bottom of a wardrobe, which then lived in my cutlery drawer for 12 years.
The bridge is more of the meranti. The sound board is finished with high gloss French polish and the back and sides are finished with nitrocellulose lacquer. I used my usual falcate bracing pattern.
So, how does it sound? Well, I'm not going to tell you that it sounds just as good as my usual guitars. These pieces of radiata pine had a density 30% greater than Engelmann spruce (for example) and it's only ~65% as stiff, so that straight away limits the monopole mobility. Having said that, it will still blow most things you can buy in a shop off the shelves. So it definitely has the Gore family sound, but just not quite as much of it.

Here's 19 year old Tom Langford, who was kind enough to record a couple of demos for me, playing "The Shed" guitar, so you can judge for yourself. As usual, no effects or EQ were applied.

Tom: Day Tripper (8.0Mb of FLAC file)
Tom: Never Going Back (5.0Mb of FLAC file)
A few makers and players met up one evening in Toronto, NSW. The great Bruce Mathiske was videoed enjoying The Shed guitar. Thank you Bruce! Here's the uncompressed sound file.
Special projects
A very special all-Koa guitar
Occasionally, as a custom guitar builder, I have the very great honour of being asked to build a truly special instrument. This was one of those occasions. The commission was for an all-koa guitar, to live in DGDGBD tuning, strung 13-56, ultra low action, hyper loud, with sound port and wedge body. Also with rope binding, slot headstock and a few custom inlays.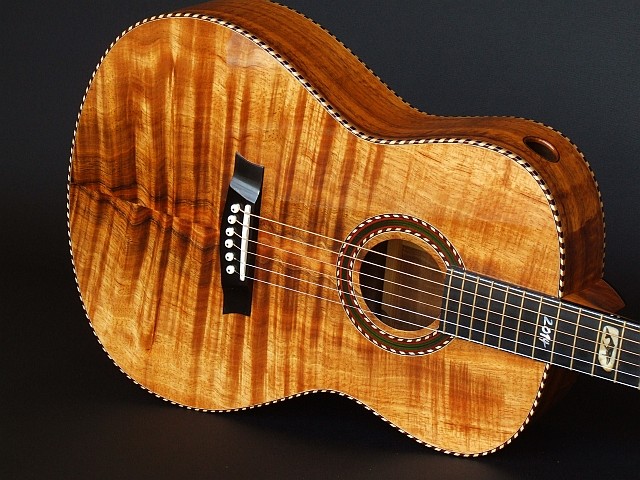 The hyper loud, low action and koa top all seemed rather mutually exclusive, so this was going to force an innovative approach.
I wanted to reduce the top mass, a necessity for a high volume guitar. I reckoned I'd have to make it rather thin, so I worked out the mass of a spruce top for the same guitar and took the koa down to that mass, noting its stiffness.
It ended up somewhere under 2.00mm thick. Then, to support the very wavy short grain figure in the top, I used a classical style dense lattice bracing pattern in King Billy Pine and carbon fibre, sized for the steel string loading. That took care of the structural design for the top. Of course, I used the techniques described in the "The Book" to ensure that the acoustical performance would match the visual impact.
I reckoned this was going to be a pretty lively sounding guitar, so I opted for a non-live back to maximise loudness rather than a live back looking for more tonal colour.
The client had an idea for a rosette he liked and you can see how this turned out. The red is blood wood (Brosimum Rubescens) and the green is English lime that I custom dyed. The brown is natural East Indian Rosewood.
The custom inlays were original scrimshaw pieces set into the fretboard to maintain the Hawaiian theme throughout.
This guitar has caused more than a few gasps, both for its looks and its sound.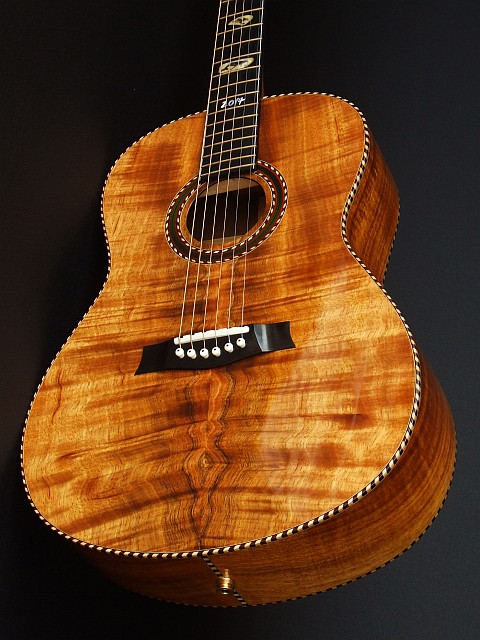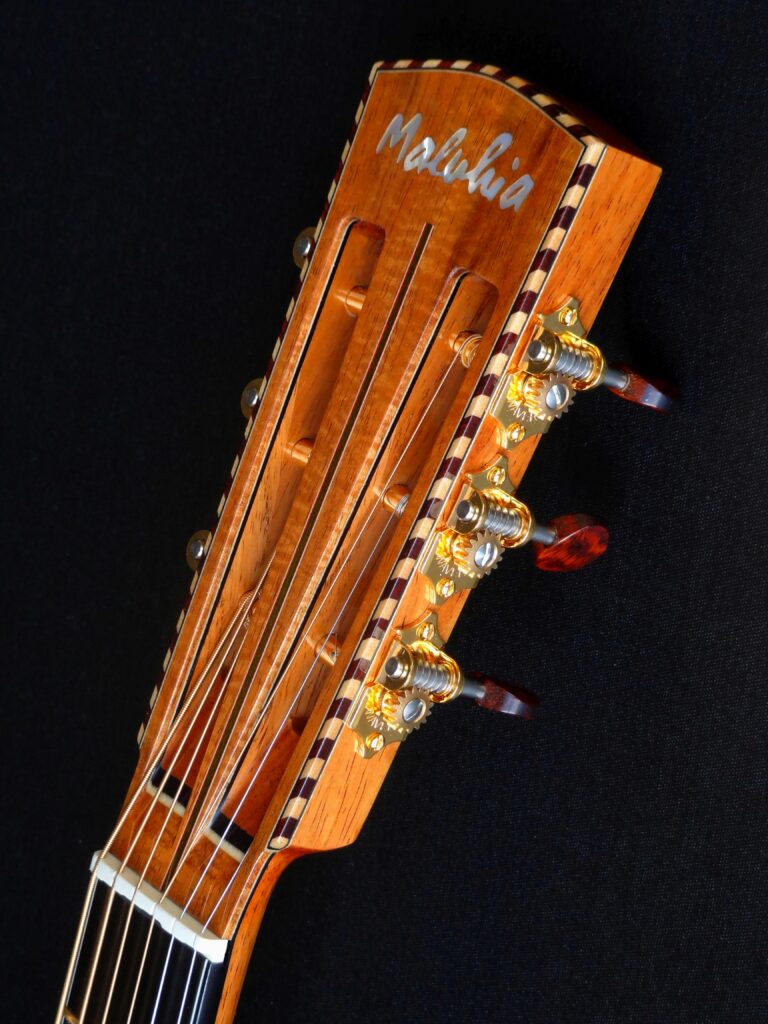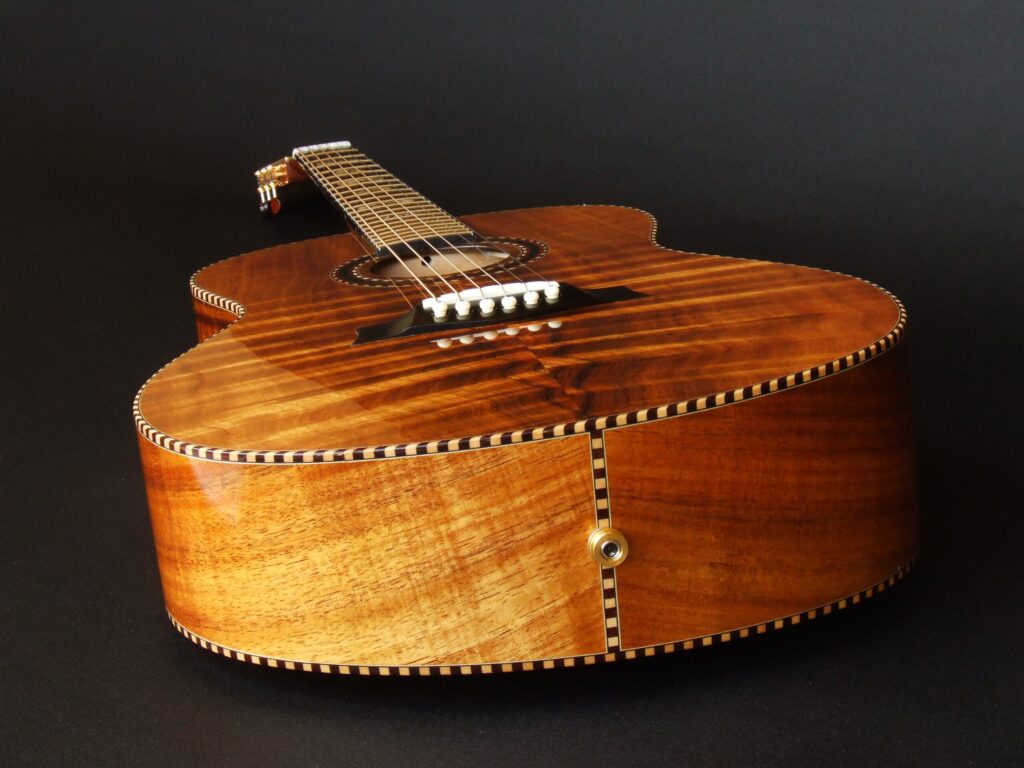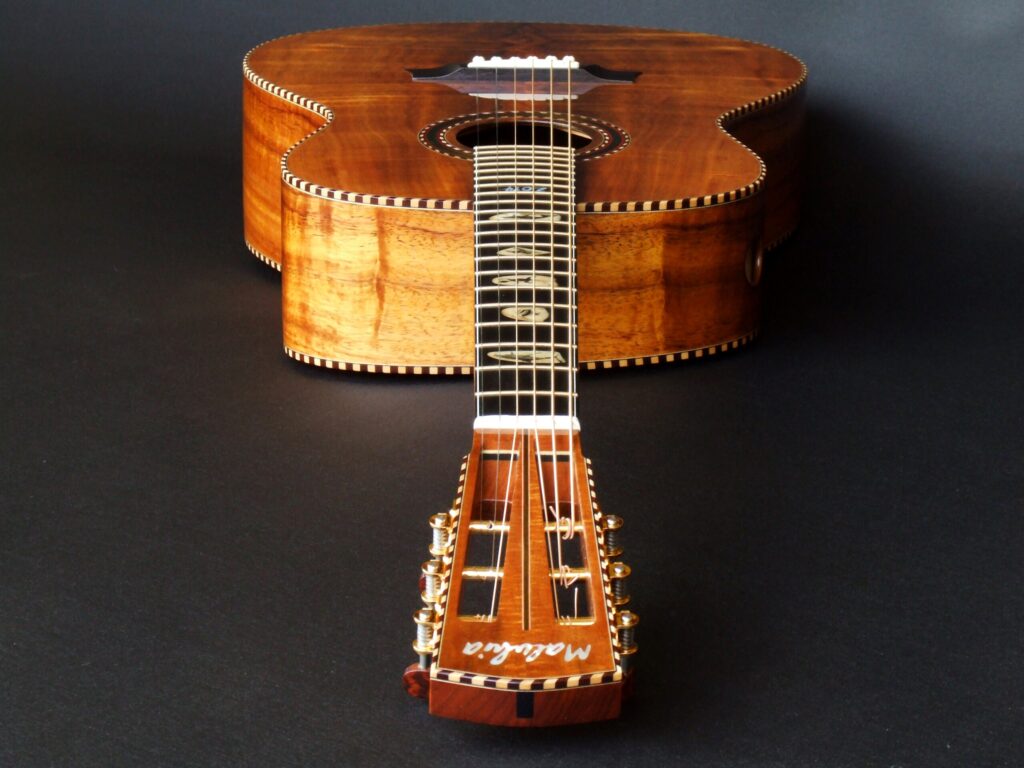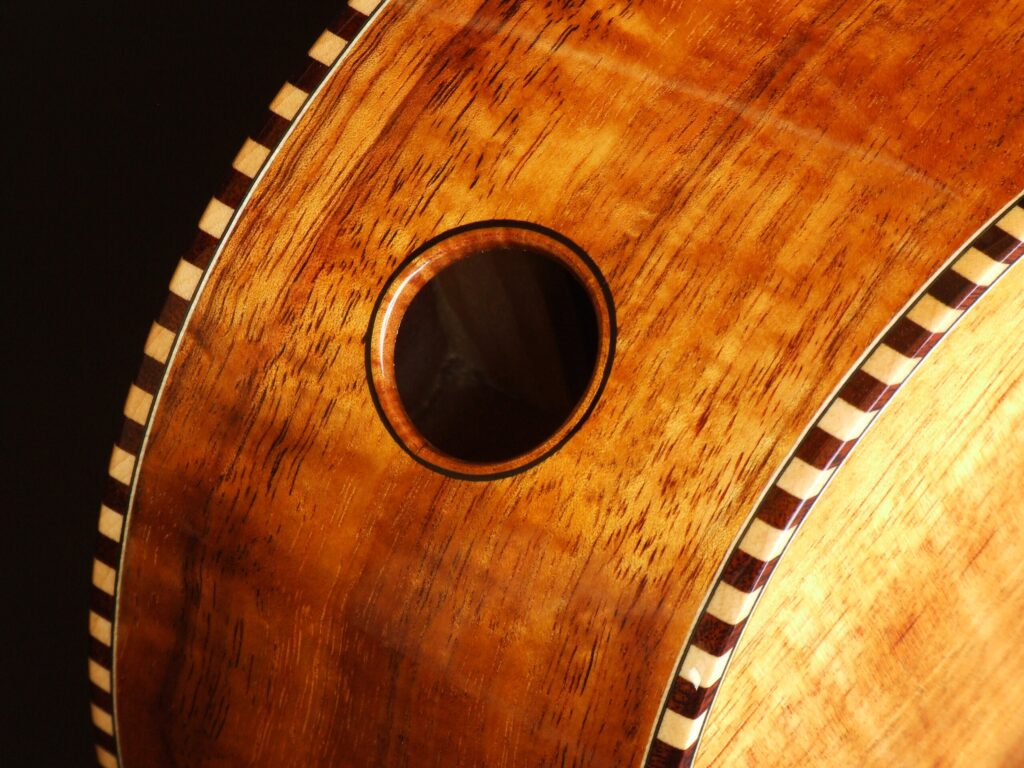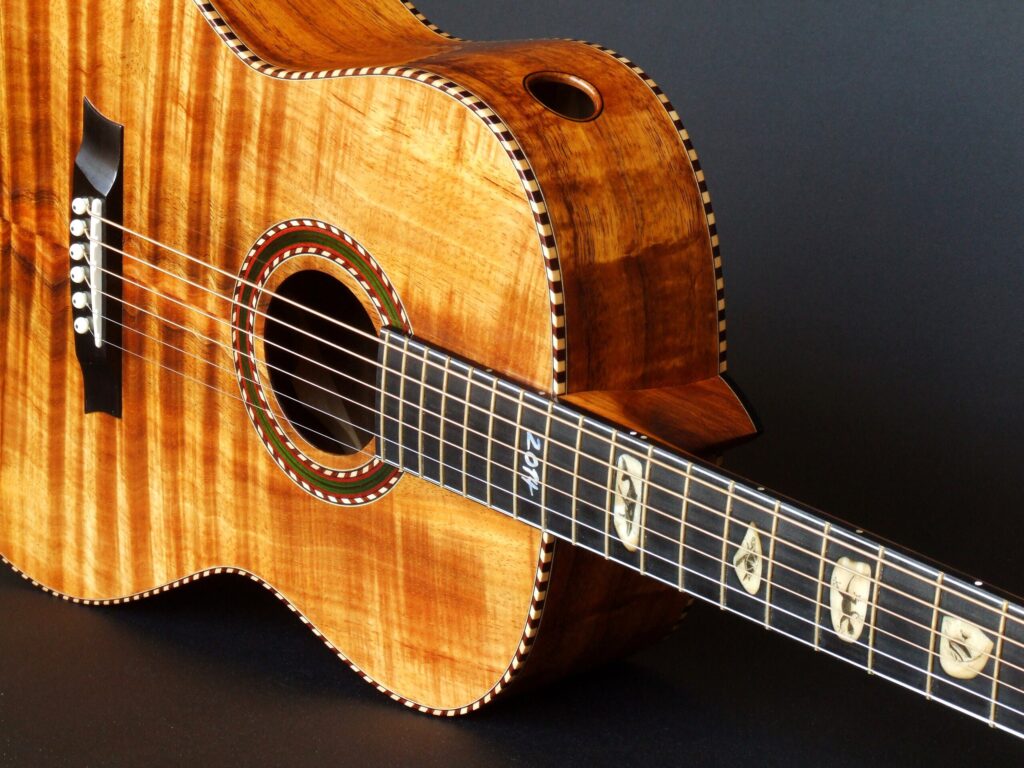 A Steel String Concert Classical, or a Concert Classical with steel strings?
This is a rather different guitar from my normal steel string concert classical. I built it for a professional classical guitarist who wanted the complete feel of a classical guitar, but with steel strings.
So I used my classical, classical body shape, complete with a full-size classical neck, but with a top braced in the falcate style for steel strings. This guitar has a 650mm scale length and is strung with light gauge 12-53 strings with a super-low action. I fitted it with four acoustic transducers brought out as a stereo pair of signals which can be blended and phase switched off the guitar.

The guitar has a truly amazing sound both acoustically and amplified. Classical pieces, unplayable on a standard steel string guitar, are rendered in a completely new way, effectively re-voicing the whole of the classical repertoire.

I built the back and sides with East Indian rosewood, and the soundboard is master grade Engelmann spruce with a French polished finish. The neck is Queensland maple with an ebony "blind bound" fretboard.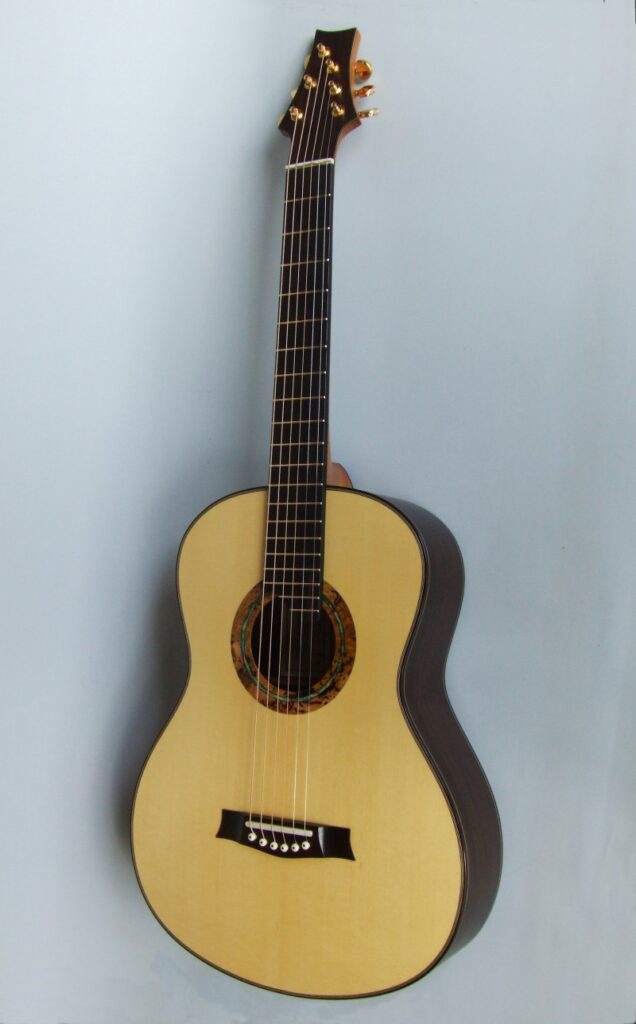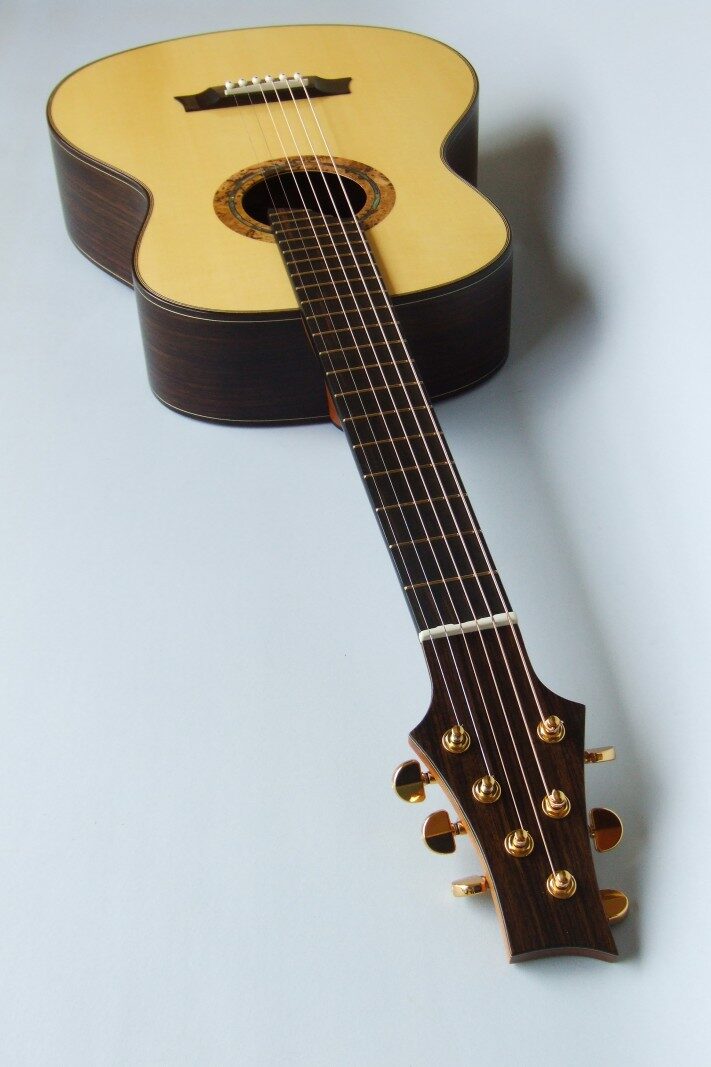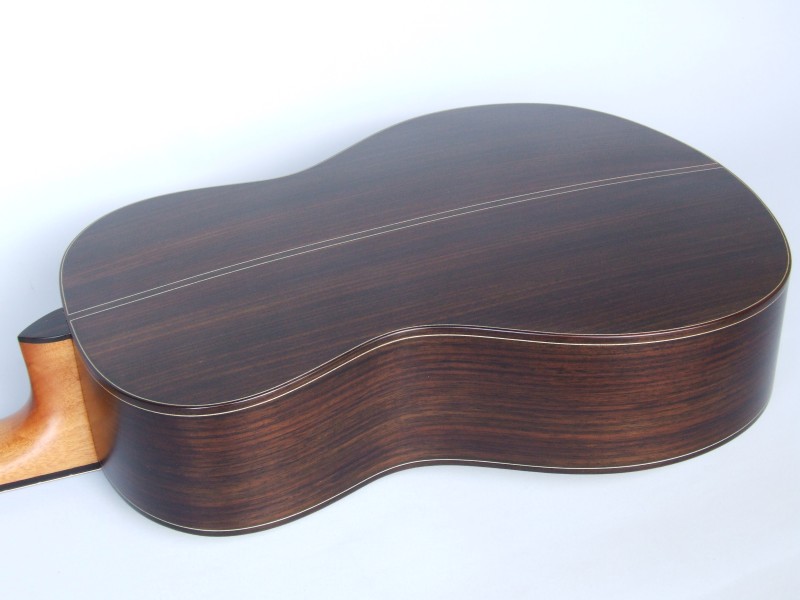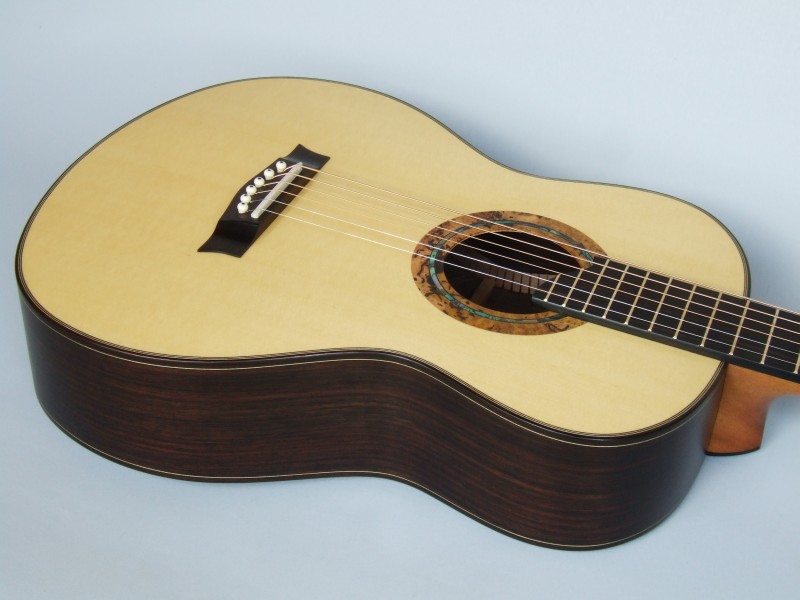 Another Steel String Concert Classical?
This was a special guitar for a special player – Danny Ross.
So what was different about this guitar?
It's a special permutation of my Steel String concert classical; in effect two guitars in one, in more ways than one!
Confused?
First, Danny requested a guitar that combined the sound of a breathy, lightweight guitar with the singing sustain engendered by the extra mass behind solid rosewood. In fact, a combination of two guitars that Danny tried out in my workshop.
With my experience building custom guitars, I reckoned I could do that!
Second, Danny plays in many different tunings and so needed a guitar that had a full-on sound in both standard tuning and dropped tunings. So that required my standard nut and saddle intonation for the set-up Danny plays on in standard tuning, with drop-in replacement nuts and saddles for when he wants to play in dropped tunings with other string sets, using strings as big as 0.064″ for the sixth string.
OK. That's do-able, too!
Furthermore, I reckoned that if I could hit the exact main top resonant frequency I was aiming for, then, using my adjustable "heavy sides" technique, I could also hit the next lower target main top resonance which would optimise the acoustics of the guitar for the dropped tunings i.e. two guitars in one. Again.
So that's what I built.
In addition to this, Danny wanted a stage guitar that sounded like a real guitar; i.e. like a studio mic'd acoustic guitar sound, which could be reproduced on stage.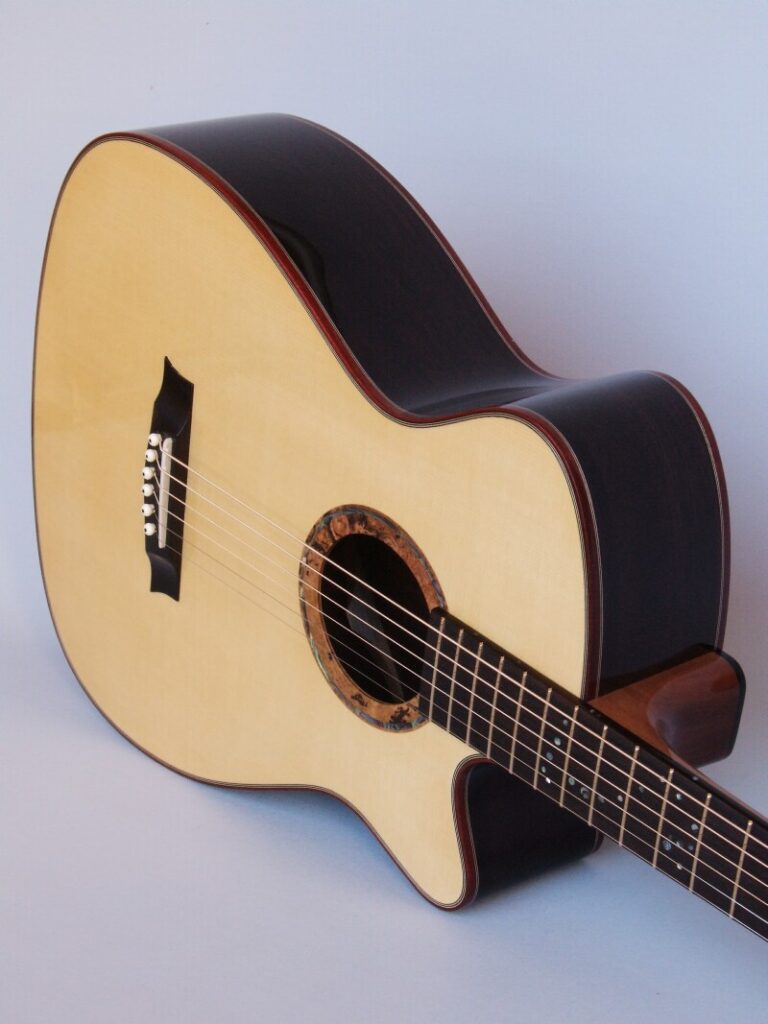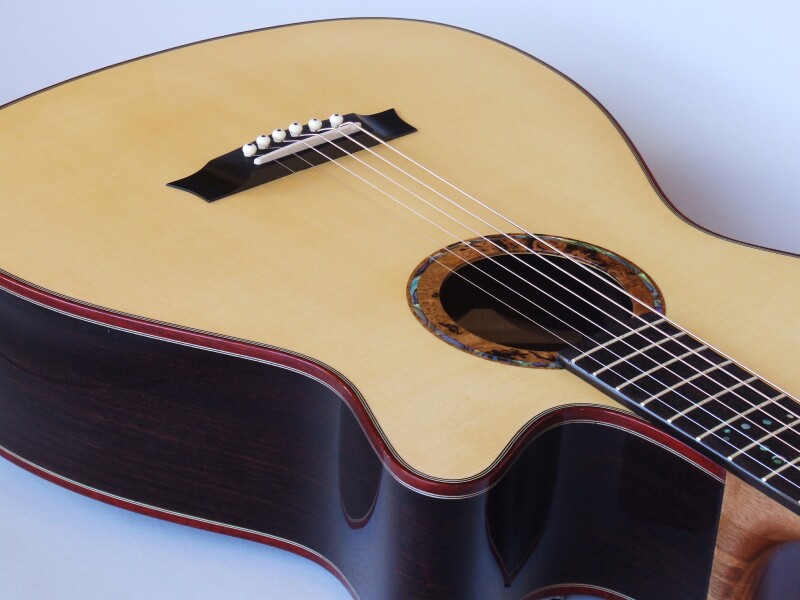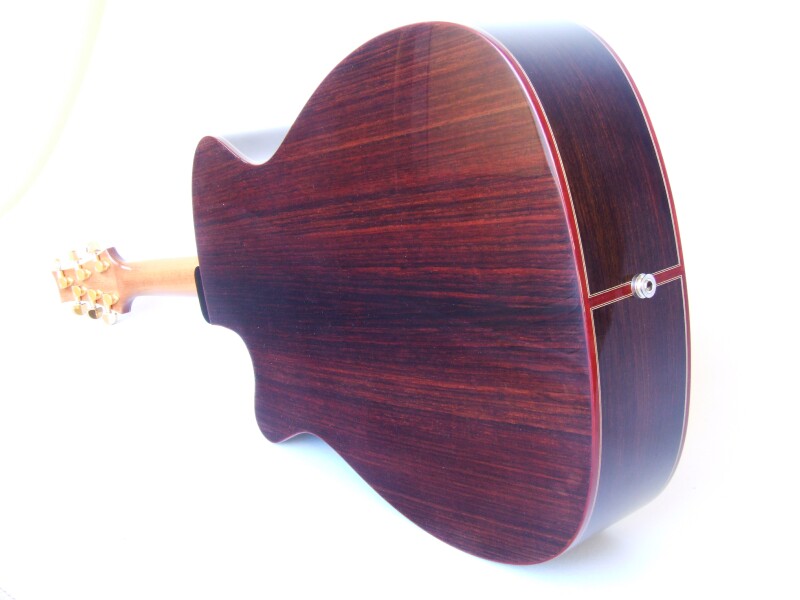 To satisfy that requirement, I used four acoustic transducers in the guitar and I brought the signal out as a stereo pair, which can be blended down to a single channel using a special stereo pre-amp. This mix of sources gives greater complexity to the signal, producing a full three dimensional effect to the amplified sound. So what you hear is much more like a guitar mic'd in the studio than the one dimensional sound you get out of most acoustic guitars with one, or even two, pick-ups.
The good news is that it all worked fine! I don't know anyone else who has picked up a guitar in the afternoon and felt so comfortable with it that he gigged it the same evening!
Nice one, Danny!
The guitar has a special grade Engelmann spruce top, ultra-low mass bridge, premium East Indian rosewood back and sides, Macassar ebony fretboard, with a Queensland maple neck. The bright red binding is bloodwood. The top is French polished and the back and sides have a nitrocellulose finish.
00 sized guitar
Occasionally I build guitars in more traditional styles.
This guitar came about through finding a "perfect" top in Engelmann spruce which, due to its size and the positioning of a single knot could be made only into a 00 sized guitar whilst eliminating the knot from the template area.
I chose to mate it with some outstanding Madagascar rosewood and completed the scheme with abalone purfling. Although it features traditional X-bracing, it was "super-charged" with a compensated nut and saddle to yield a powerful guitar in the fine 00 tradition with an extra-sweet and tuneful sound.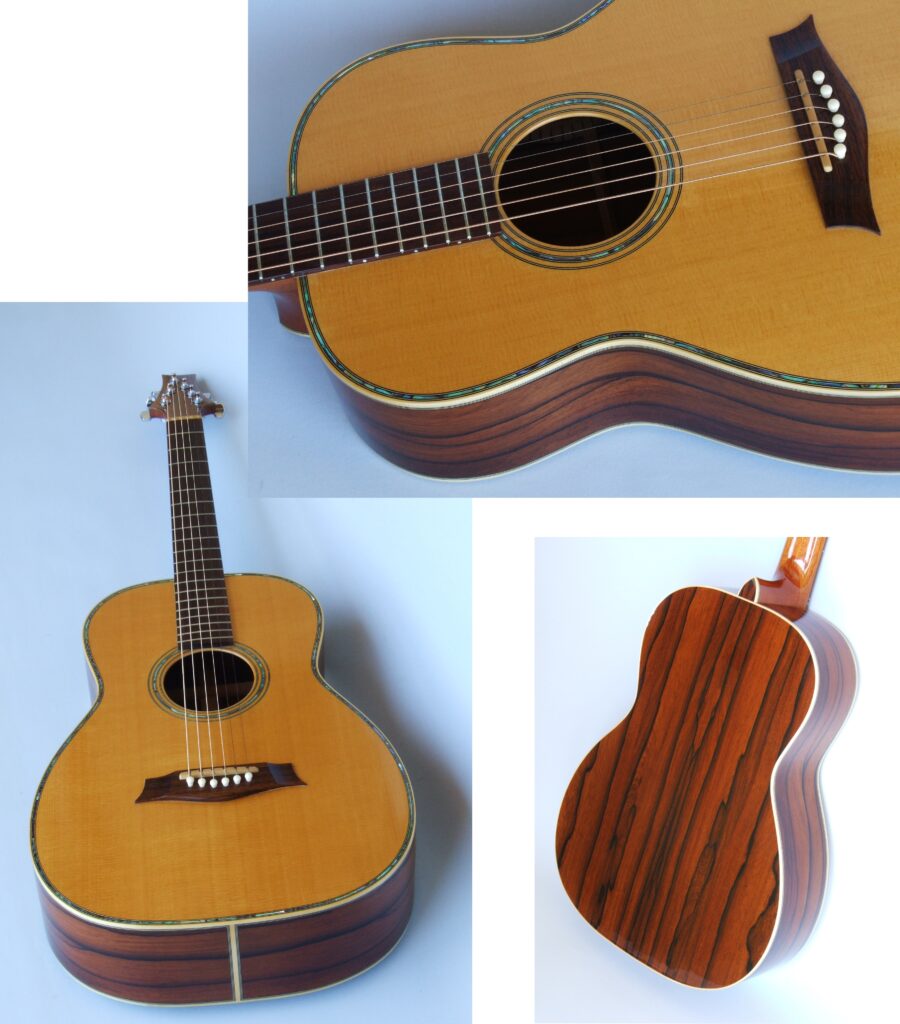 12-fret 12 string
I designed and built this guitar for a customer wanting a 12-string guitar with a difference.
Many 12-string players de-tune and use a capo on fret 2 to get back to standard tuning whilst dropping the string tension. This effectively turns the guitar into a 12th fret neck joint instrument. So why not use a shorter than normal scale length with a twelfth fret neck joint and put the bridge in a better place to drive the top? So that's what happened, along with light weight lattice bracing and nut and saddle compensation for all 12 strings.
The result is a very powerful instrument which plays in-tune thanks to the special compensation and stays in-tune thanks to its 12 Gotoh tuners.

Whilst this is hardly in my "steel string concert classical" category it is a killer instrument for anyone wanting a really user-friendly 12 string with a truly enormous sound. I fitted this one with a B-Band pick-up system for hassle-free stage use.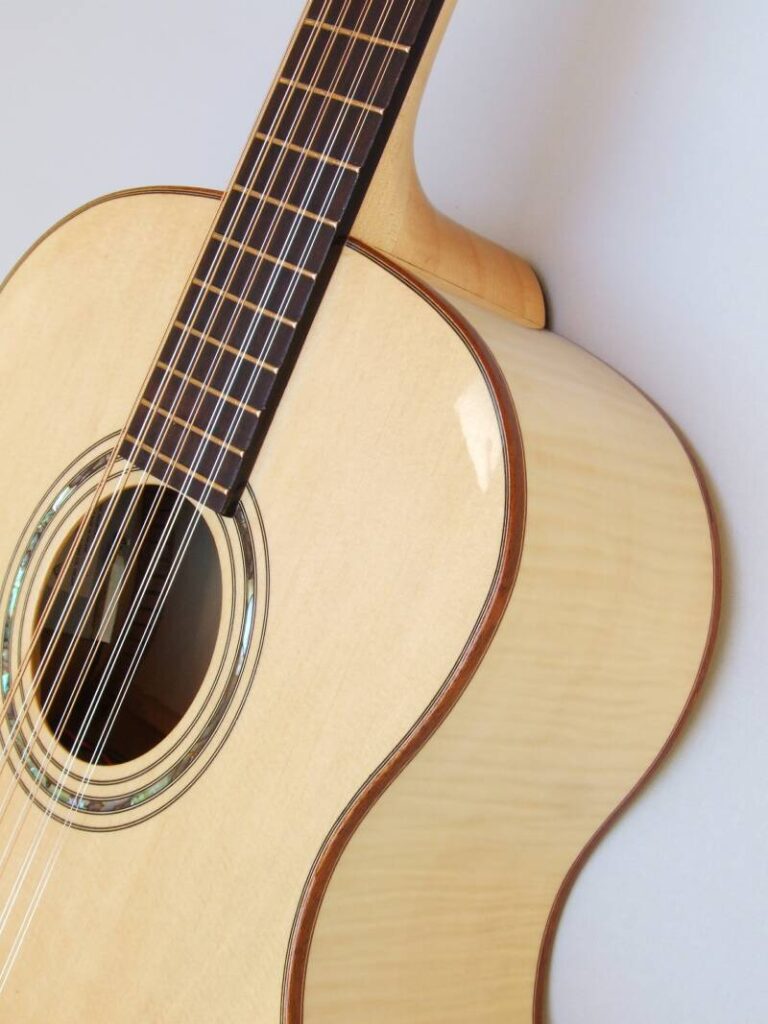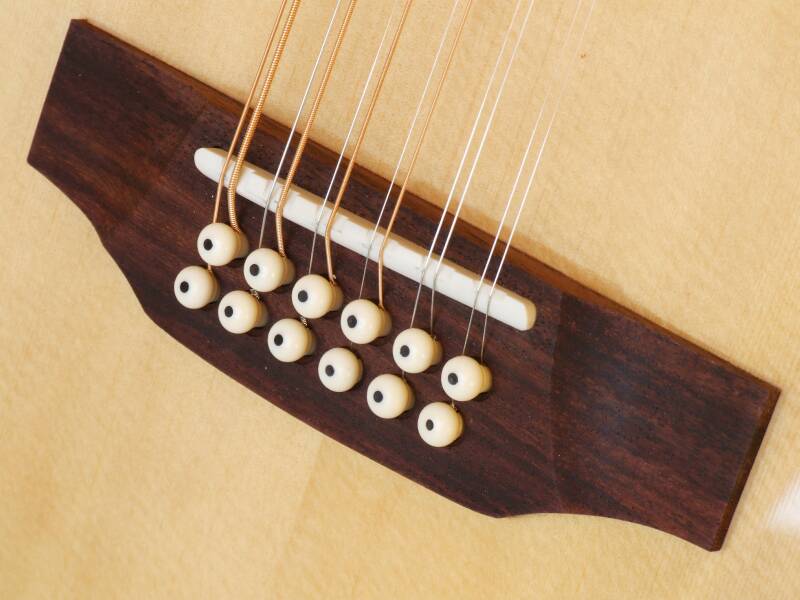 Stage guitar with 14th fret neck joint
I custom built this guitar for a gigging musician wanting a responsive guitar with a dynamic stage presence. Percussive strumming figures significantly in Ed's style. Sparse lattice bracing was best suited for this type of guitar, teamed with a resilient Sitka spruce top. The back and sides were made from select figured blackwood to ensure a cool Australian vibe.
Ed's playing utilises plenty of frets, so rather than my more usual 12th fret neck joint, this guitar has a 14th fret joint. The sound reinforcement was provided by four acoustic transducers in the guitar with the signal brought out as a stereo pair, which can be blended down to a single channel. Here's what Ed had to say about his new guitar: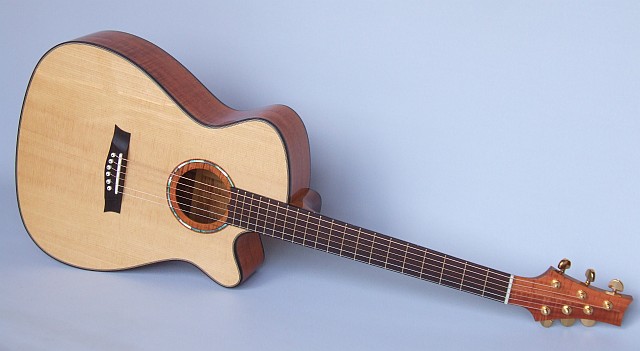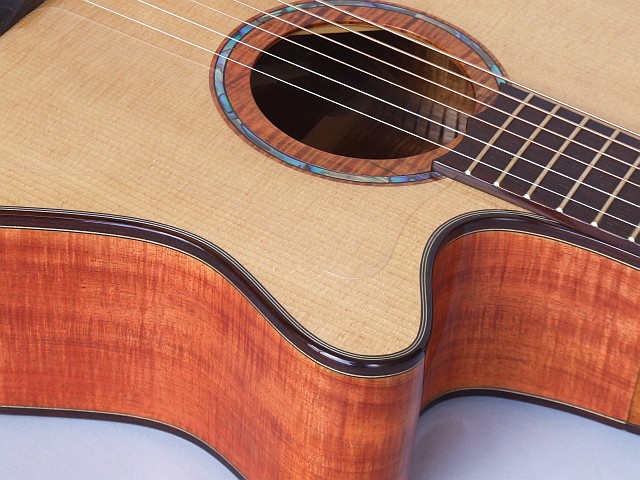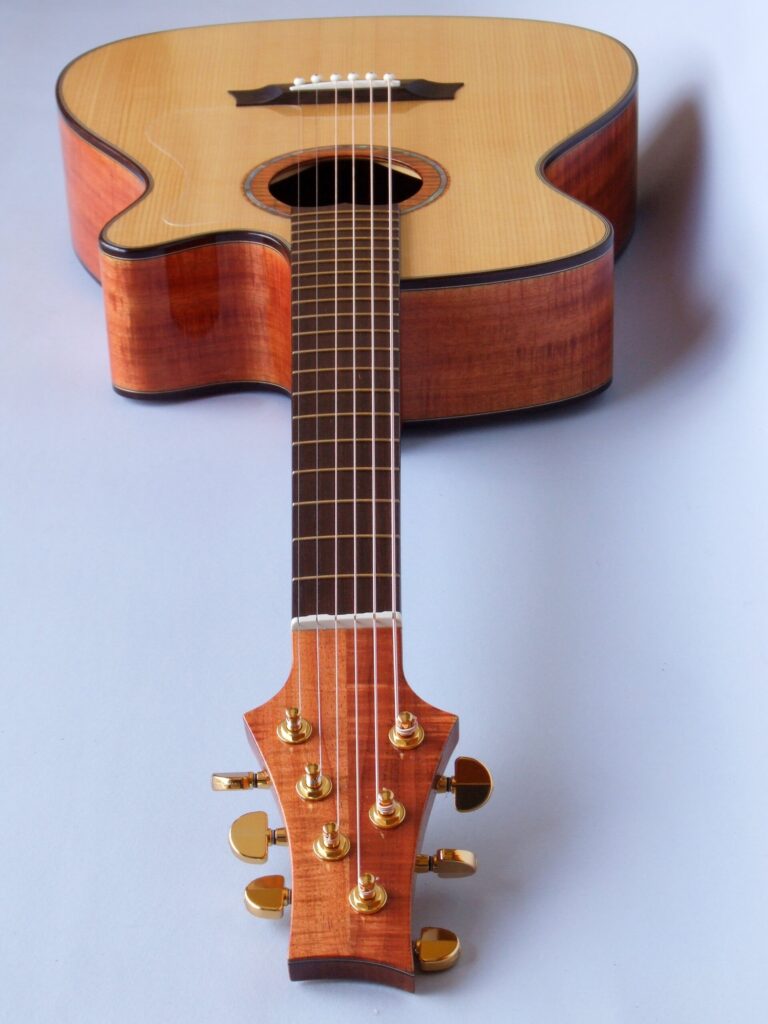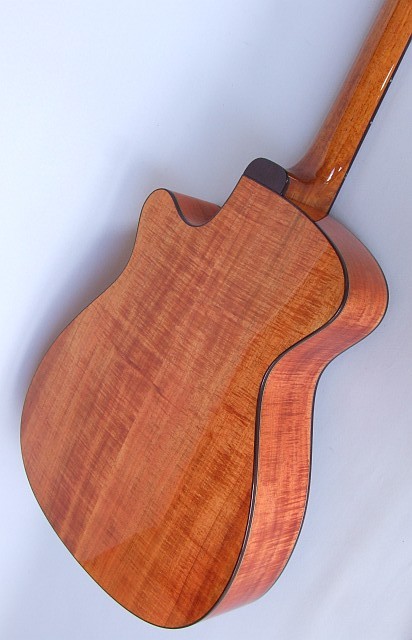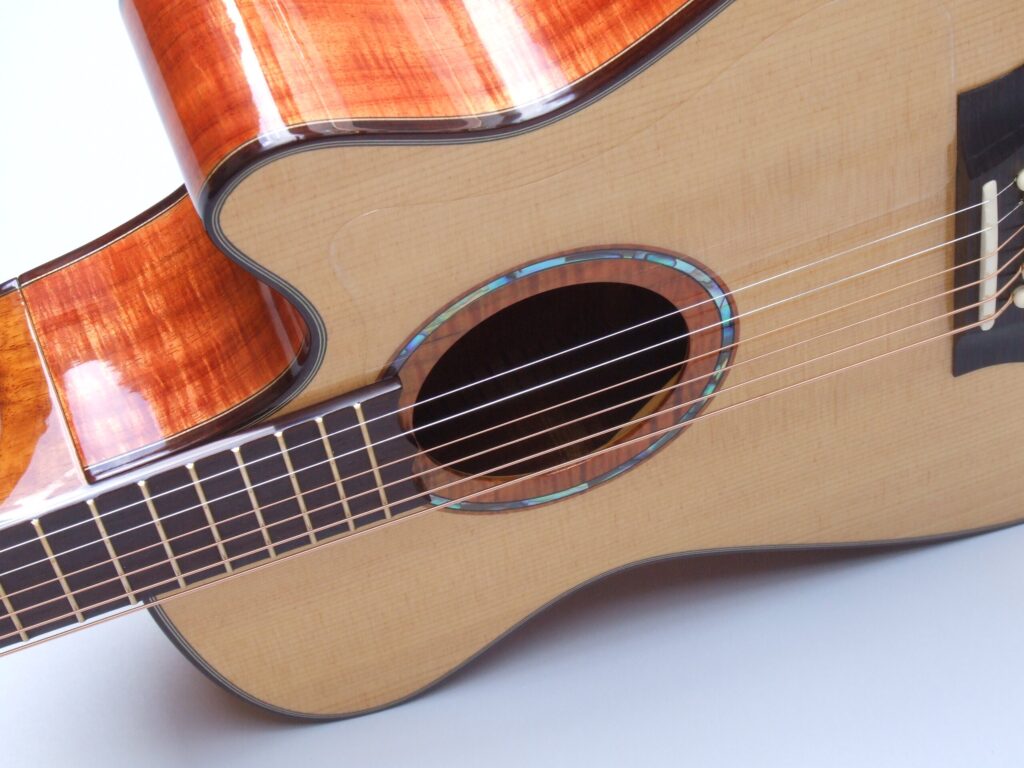 A matched pair
It's always a pleasure when a customer comes back for a second guitar, so I was delighted when Bob asked me to build him a classical guitar to match his steel string cedar/rosewood with blackwood trim.
To keep the familial shape, Bob chose a neo-classical cutaway design, of course with the same cedar/rosewood/blackwood looks. It has a very classical sound, even though it is dressed quite differently from its more traditional counterparts. A very imposing brace of guitars, I thought!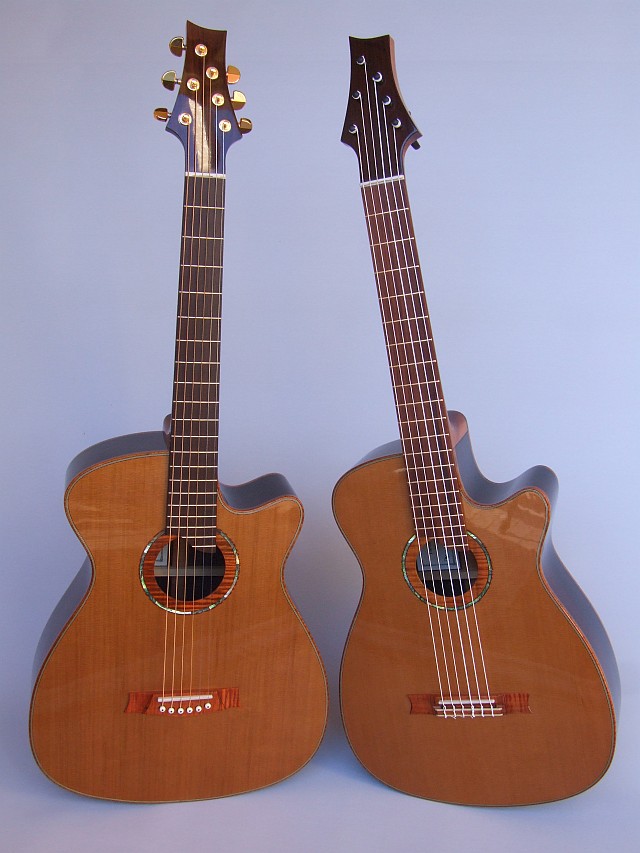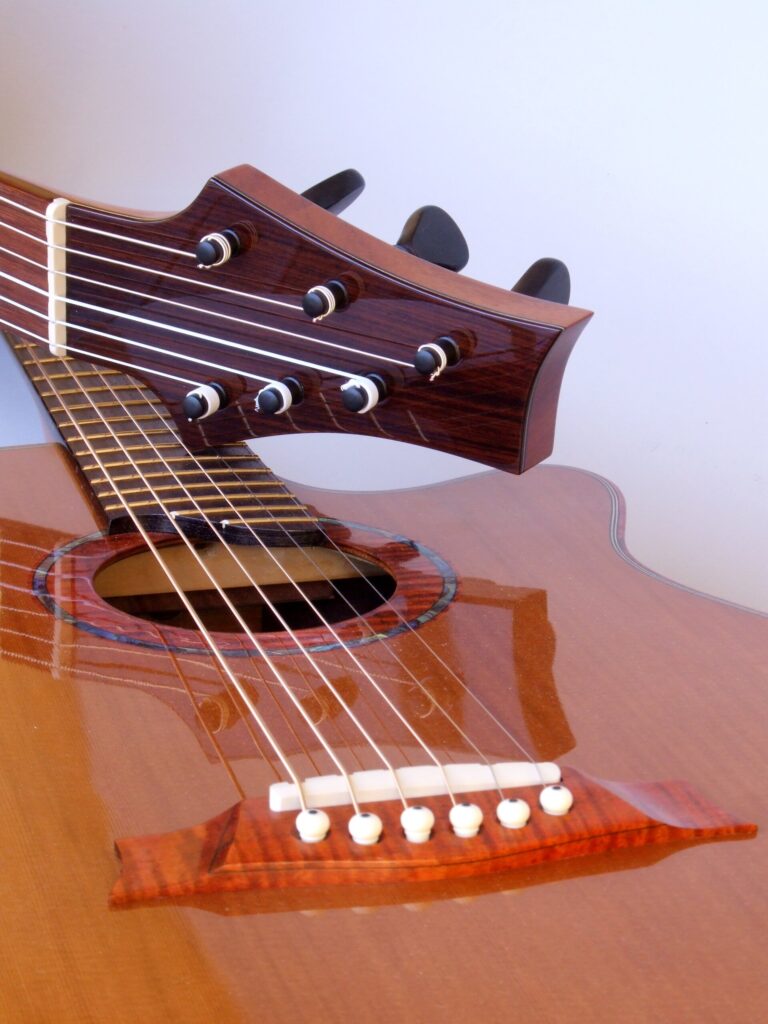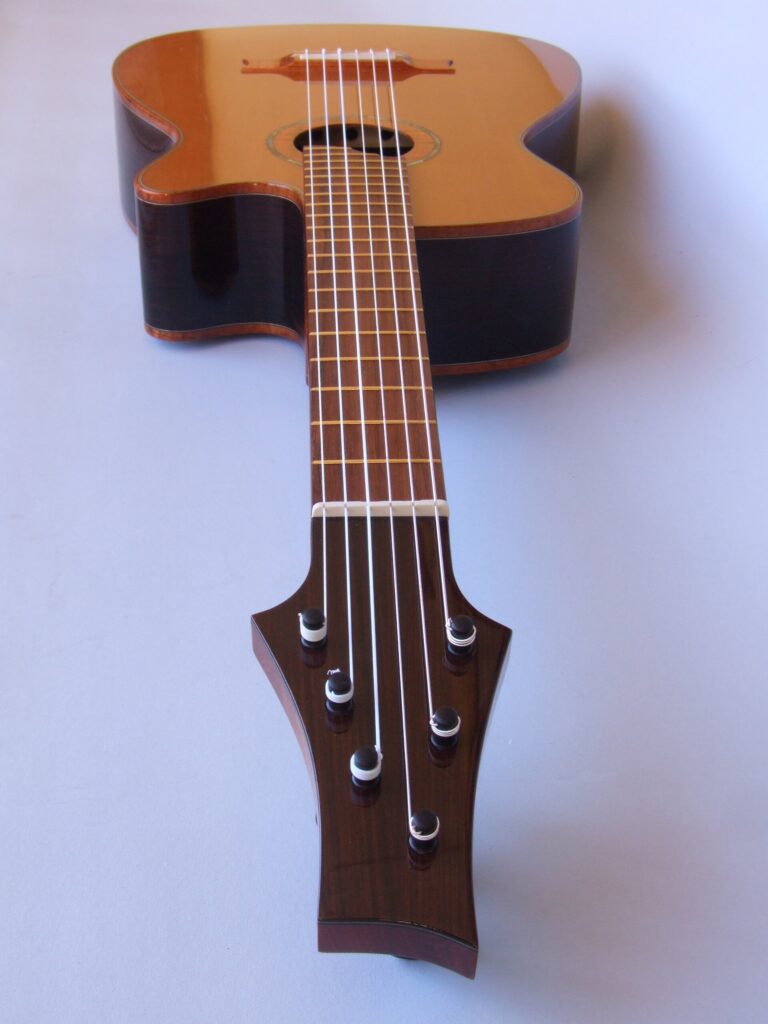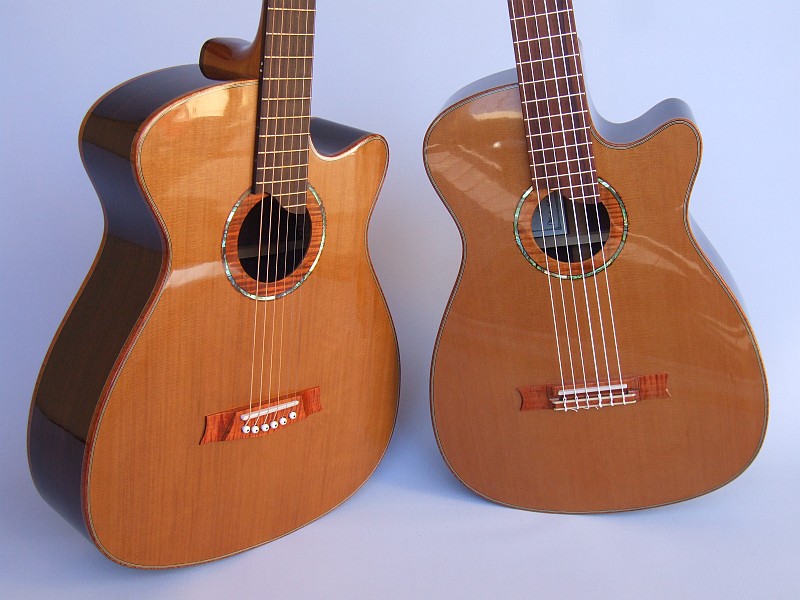 Custom guitar options
Woods
Tops
European spruce
Sitka spruce
Engelmann spruce
Lutz (Sitka/Engelmann/white spruce hybrid)
Western red cedar
Redwood (occasionally available)
Other species by special request
Backs/Sides
Australian Blackwood
East Indian Rosewood
Mahogany
Bloodwood (brosimum rubescens)
Other rosewoods (Brazilian is occasionally available)
Palo Dorado (flamenco dorado)
Koa
West Australian She-oak
Other species by special request
Neck woods
Queensland maple
New Guinea rosewood
Mahogany (Swietenia macrophylla)
Australian cedar
Body styles
Super-parlour steel string
Contemporary Small steel string
Contemporary Medium steel string
Neo-Classical
Conventional classical
Small body (340mm lower bout) classical
Traditional Martin styles (00, 000, D)
Traditional Gibson styles (J45, J185)
Features and Details
Falcate bracing (traditional bracing styles on legacy designs)
Lattice Bracing (sparse or dense, steel string or classical)
Cutaways (Venetian) for both classical and steel string
Herringbone purfling
Fineline purfling
Shell purfling
Radial grained purfling
"Grain through" bindings
Figured bindings
Shell/line rosettes (after Martin)
Contemporary wood burl and line purfling rosettes
Segmented rosettes (discontinuous rosettes)
Geometric rosettes on classical guitars
Other rosette designs by arrangement
Choice of tuning machines (for steel string Gotoh is standard, for classical, there is a wide choice with Gotoh premiums or Sloan twin bearing being recommended)
Tilt neck (user adjustable neck angle/action)
Choice of scale length
Wedge body; easy on the shoulder
Sound ports (bound)
Slot headstocks (steel string and classical)
Rope binding
Headstock binding or faux headstock binding
Custom inlays
Finishes
Nitrocellulose lacquer
French polish
Combination finishes
Sound reinforcement
By negotiation. Multi-pickup, stereo systems are a speciality, based on K&K transducers with outboard pre-amp.
Custom guitar pricing
All prices are exclusive of taxes, cases, delivery and insurance. Bona fide guitar students of recognised Music Conservatoria may be eligible for generous discounts. If you're a student seeking a custom guitar, please contact me for details.
Custom Classical guitars
For classical custom guitars my prices start from $6500, exclusive of any applicable taxes and delivery charges.
For this, you will receive a guitar to one of my body designs (classical, neo-classical, or small-body) with nut and saddle compensation for "standard" strings in standard tuning, facility for variable side mass, with a choice of woods for back and sides and a European spruce, Engelmann spruce or cedar soundboard.
The decorative scheme will be simple and elegant; typically fine-line purfling with bindings in the same wood as the back and sides.
Your soundboard will be French polished (lacquer on request) with an open pore finish on the back and sides. The neck will be sized to your specification (or my standard specification) at no extra cost. The guitar will be fully resonance tuned.
As a luthier who specialises in custom guitars, the options I can create for you are infinite, but typically may involve:
Highly figured woods
Exotic woods (e.g. Brazilian rosewood)
Different finishing styles
Choice of tuning machines
Custom ornamentation (rosette, purfling)
Cutaways, bound fretboards
Compensation for unusual string sets and tunings etc. (prices to be agreed at the time of ordering)
Custom Steel String guitars
For steel string custom guitars, my prices start at $6000 for a small bodied, 12 fret to the neck joint guitar without a cutaway, with a choice of Sitka spruce, Engelmann spruce or cedar for the soundboard and an Australian tonewood for back and sides. The finish will be semi-gloss with no grain fill. The guitar will be fully resonance tuned.
The steel "string concert classical guitar", 12 frets to the body join with a Venetian cutaway, available in a wide choice of woods for soundboards, back and sides (see the photo gallery) with Gotoh tuning machines, facility for variable side masses, compensated nut and saddle, fully resonance tuned with a high gloss pore-filled finish is priced from $7500. Soundboards can be French polished or finished in nitrocellulose lacquer.
Special permutations are endless, so please contact me if you wish to explore the many available options.
Terms
When we have an agreed specification, delivery time and price for your custom guitar, I will require 20% of the price to confirm the order and place it on my build list.
This sum is not refundable in the event that you subsequently cancel the order or the order cannot be completed for any other reason attributable to you. It covers the time and effort I put into the design and sourcing processes when I might otherwise be building a guitar for someone else. A further 40% of the total price is required at the commencement of building (typically 2-3 months prior to delivery). The balance is due prior to delivery.
Custom Guitars available now
At any particular time I am likely to have a number of custom guitars that are available immediately. These may be either classical or steel string guitars that are a popular model that I keep in stock for people who prefer to try before they buy, or guitars that were built for either demonstration or experimental purposes that I like to keep turning over.
Prices will range from close to full price to close to half price. All custom guitars for sale will be in as new or close to new condition, are of outstanding quality and provide an excellent opportunity for those on a budget to own a real Gore guitar that may be perfectly suited to their needs. Please see the Contact Page to email me for details of what is currently available and the associated pricing. Also check out the Shop as some guitars will be listed there.
Where to buy
Buying a Trevor Gore custom guitar
Player reaction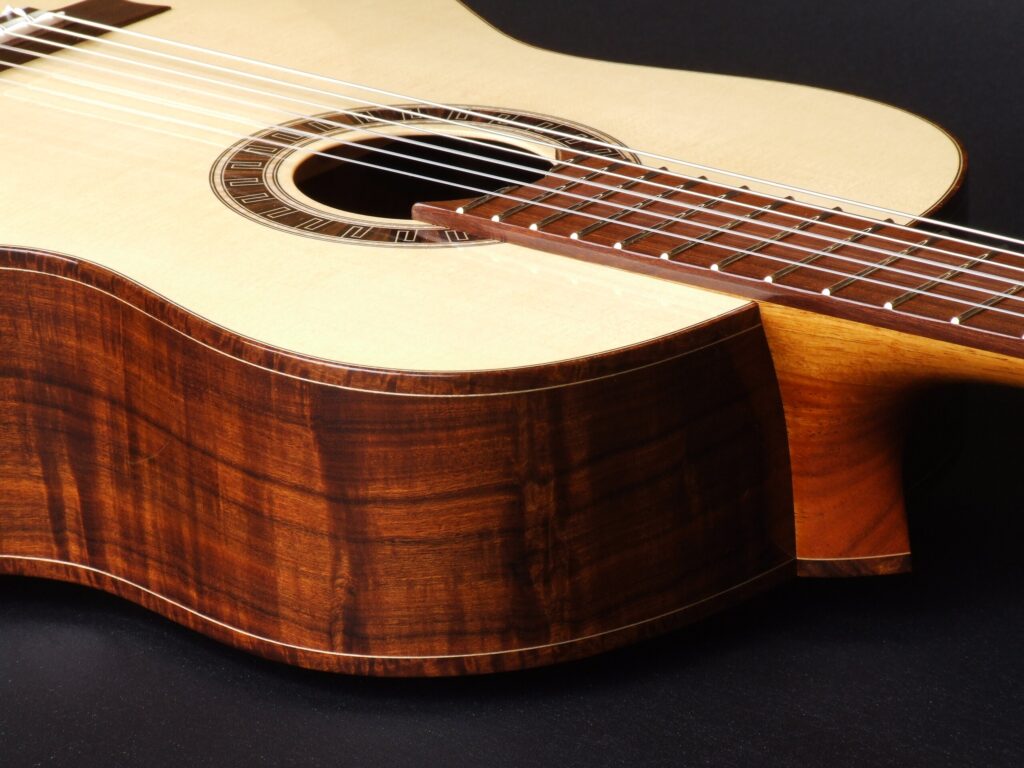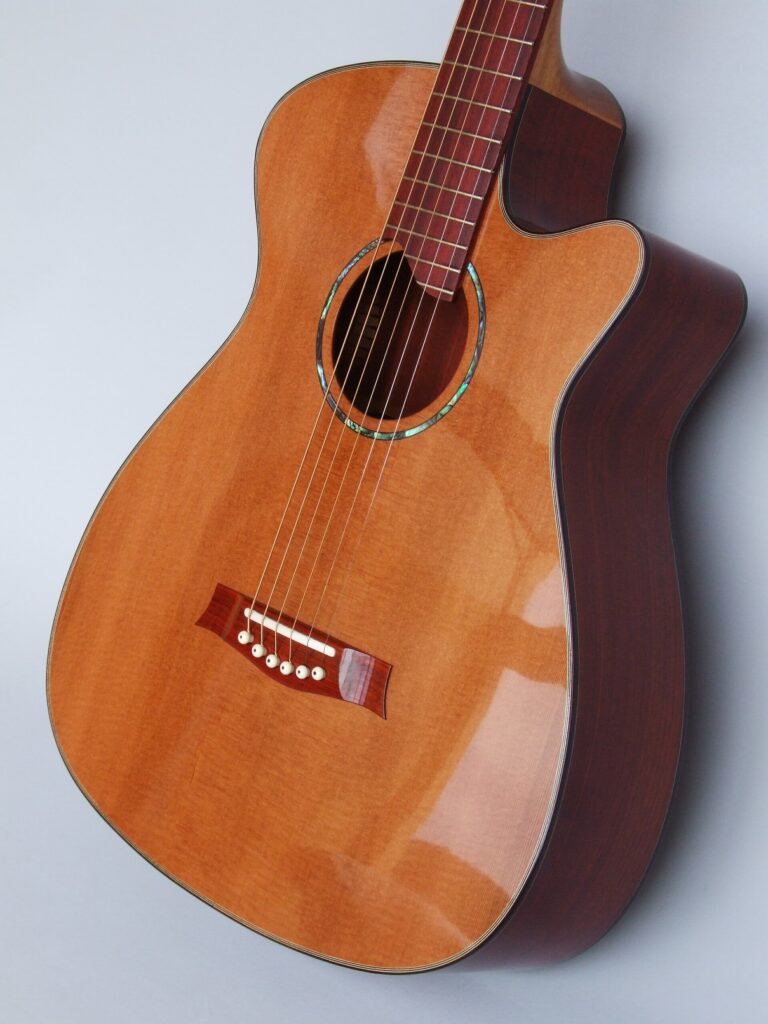 Custom guitars built especially for you to your specification are available only directly from me. Please contact me via the Contact page.

The following dealers usually have at least one of my instruments in stock. Please ask and they will be only too pleased to help you. It always pays to phone the shop as the stock situation often moves faster than the websites.
Classical Guitars
Gladesville Guitar Factory
http://www.guitarfactory.net
Rick Falkiner's Guitar Centre
http://www.guitarcentre.com.au
Steel string guitars are available from:
Rick Falkiner's Guitar Centre
http://www.guitarcentre.com.au
Gladesville Guitar Factory
http://www.guitarfactory.net
I have at my side a thunderingly good classical guitar – a veritable V8 of an instrument – ready to be taken out on the track. And like all fine guitars this instrument has the special stamp of a thoroughbred, spirited yet refined. I like the guitar very much and think this is a fine instrument.

Gareth Koch; ARIA Award Winner 2003,
Saffire – The Australian Guitar Quartet
I am the owner of the Redwood top guitar with Palo Dorado B&S. The sound is spectacular! That instrument redefines the limits of classical guitar and excellence!

My musical circle includes many, from people with PhDs in theory and Masters in a performance discipline to semi-pro rockers like myself, and everybody in between. Everyone who has heard it vehemently praises its sound quality, so much so, it is under the category of being blown away! And, that amazing tone is present from the quietest passage to the very loud statements the instrument is capable of. It's loud but at an audiophile level. Did I say it's really loud? Oh, and it's capable of huge volume and projection. The sustain is also not believable unless you play it and hear it. Note separation, articulation, with simultaneous warmth of over tones – all present. I can romp on it hard, and all notes are distinct, clear, crisp. But when I want sweet overtones, I let the instrument speak for itself.

Andrew Pohlman, California USA
Just letting you know after having a week off with the new beast its going great. It is superb. All of the guitar quartet found it to be an amazing instrument which far out classed all of our previous guitars.

(Cedar rosewood neo-classical, snakewood trim)
Shannon Robards QLD Australia
"This guitar sings – so rich, so much depth and body to the tone, so alive under my hands. I am only able to harness the smallest tip of the iceberg so far, every time I pick her up, something new arises. I am continually surprised and overjoyed at the beauty of this guitar- in every way. Trevor's mastery of craftsmanship and innovation is world class, and it was a pleasure to work with him during the process of shaping the concept, choosing the materials, and then watching the build unfold in packets of eagerly awaited photos in my inbox. This guitar has, is, and will continue to enrich my life as a singer songwriter. Trevor makes some of the best acoustic guitars there are, and the value for money is amazing. I'm over the moon!"

(14th fret neck joint steel string)
Ed Bassingthwaighte, QLD, Australia
When I was thinking about this review I was thinking of all the sorts of things people say in reviews in magazines like Acoustic Guitar. While they're interesting, I can't think of any of my 16 guitars that I bought based on those reviews. Clearly with owning a few guitars, my Trevor Gore wasn't based on need, it's more like a journey. To start with I was looking for sustain, like Jimmy Page exploding with 'A Whole Lot of Love', but acoustically and clean. I looked online for innovations and found Trevor's guitar site. After reading about how he approaches guitar design I knew I had a possible path to travel down. When I look for a new guitar I am looking for a new voice more than anything, and to do that it involves playing and listening, which I was able to do at Trevor's place.

Clearly the guitar is beautiful. A steel string with nice choice of woods for neck, binding and rosette, Indian rosewood back and sides with a cedar top, which was part of the voice I was looking for. Hopefully if Trevor puts this review on his site he'll embellish with pictures, truly worth a thousand words. The fit and finish are truly lovely and while the shape is unique, it doesn't sacrifice form for function.

The guitar I have has ALL of Trevor's innovations, carbon fibre reinforced bridge, weighted sides, compensated nut and bridge, straight string pull and what these have produced is a guitar that has amazing sustain and clarity, brilliant intonation which especially suits my light to medium fingerstyle playing. My guitar has a 12 fret to the body neck with a cut-away, a bit wider and a bit less curvature than other steel-string guitars I play, so more than most I needed to adjust to the neck.

So far so great I have asked Trevor for an encore in building me a neo-classical twin, a nylon string guitar with an almost flamenco style attack… I can only recommend you try these guitars – they may not suit the inner voice you seek but this has suited mine!

Robert Smith, S. Pacific
hey trevor,

the guitar is worth its weight in saffron

[steel string "Concert Classical" guitar]
DR, Byron Bay, Australia
Hi Trevor,

I hope you can post this on your website. The steel string bloodwood guitar is simply unbelievable and this is based on the opinion of myself and that of others who I recently gave the opportunity to play at a guitar camp. Everyone was in awe of this guitar. To say that you have something special here is a gross understatement. We do not even need to import high end guitars any more and have not had to for quite some time. Artists need to look in the backyard before they look over the fence. Also, great book and absolute pleasure dealing with you.

Regards,
David Cox, QLD, Australia
You will be very pleased when you hear the guitar next [neo-classical] as it is waking up very nicely and now has your characteristic bell like quality on both top strings. Physically to hold and play it fits very well, a natural extension of the guitarist body rather than feeling like a plank in your lap, I guess this is partly the shape of the neck and also the new body shape which seems to lock onto the supporting leg and doesn't have the tendency to slip like the standard shape classical. So all up a real joy to play and hear.

Probably the most significant effect it has had on my playing is that I listen much more like an audience member rather that just concentrate on the physical aspects of playing which normally inhibits the players ability to listen objectively.

The finish is also pretty amazing, it has such depth and polish that everyone is pretty impressed well before they get to hear it.

Of course your guitar surpasses the quality of my [other guitars] so much that they sound like very poor cousins now but they have served me very well all these years so I cant feel too regretful about this.

DG, Newcastle, Australia
It was a pleasure meeting you recently. I was at [a friend's] place recently and he invited me to see the guitar he got from you. I WAS STUNNED. I have never seen/ played such a responsive, alive steel string guitar in my life. I was further stunned by the picture of your incredible bracing system… I am at the moment being visited by a musician friend … who is a very accomplished guitarist. I took him over to [my friend's] and he was stunned also.

DB, Fort Bragg, CA
"To play a Trevor Gore steel string guitar for a few moments and then return to my vintage-series Martin is like jumping on an Olympic trampoline for a good while, getting off the trampoline and then trying to achieve that same bounce and exhilaration back on the ground! "

DR, Sydney, Australia
I just bought a 12 fret to the neck cedar/Indian steel string guitar made this year by Australian luthier Trevor Gore. It was played at the Healdsburg festival and to my ears is the best sounding steel string I have ever heard. I paid 6k and I am sure it is vastly better sounding than many instruments costing twice that or even more.

RL, Mendocino, CA
My guitar is just getting better and better… Round and clear with good volume! A nicely balanced sound. The sound and quality of your guitar is better, both richer and louder, than the Taylor guitar at £[lots]…The sound of the classical guitar is amazing.

FE, Bridport, UK
This is the most in-tune responsive and powerful steel string guitar I've owned.

RF, Sydney, Australia