3-day Modal Tuning Course

I have been running this course since 2009, a couple of years before the book was first published, though the book was pretty much finished at that time. In the years since, I have run the course over 20 times in Australia, USA and Europe, with around 200 guitar makers, big names and small, having greatly enjoyed and benefited from the course. The course brings to life the first volume of the book, "Design", and covers in detail the mathematical elements that non-mathematicians find challenging.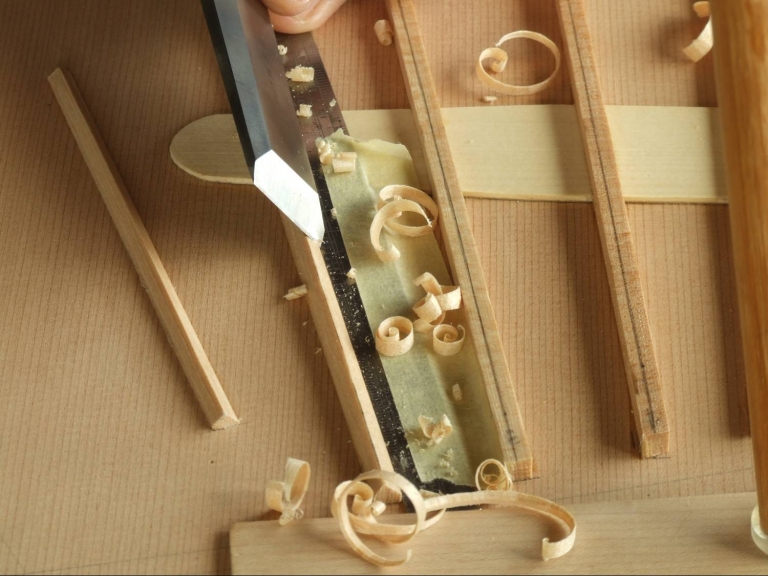 Introduction to Modal Tuning

Trevor Gore
The course is based round the following concepts:
Guitars radiate sound from their vibrating parts, mainly the top plate
If a guitar top vibrates in a different way, it produces a different sound
The different ways a guitar top vibrates are called modes
If the modes are tuned to resonate at particular frequencies with particular amplitudes, we can shape the way a guitar sounds
In the workshop we explore the theory and practice of mode tuning to help you achieve the sound you want from your guitar
The course outline and more detailed course content can be downloaded by clicking on the hyperlinks.
I run the course when demand is sufficient. Typically 10 participants are required. Usually, a lead participant takes on the organising role for that location, which can be almost anywhere, and the lead participant benefits by having a low cost participation fee. The cost for participants varies considerably based on location, venue hire, travel and accommodation costs, etc., but if you are interested, contact me via the Contact page and let me know where you are. Two courses back to back dilutes the costs significantly.
Guitar Analysis and Testing Video Course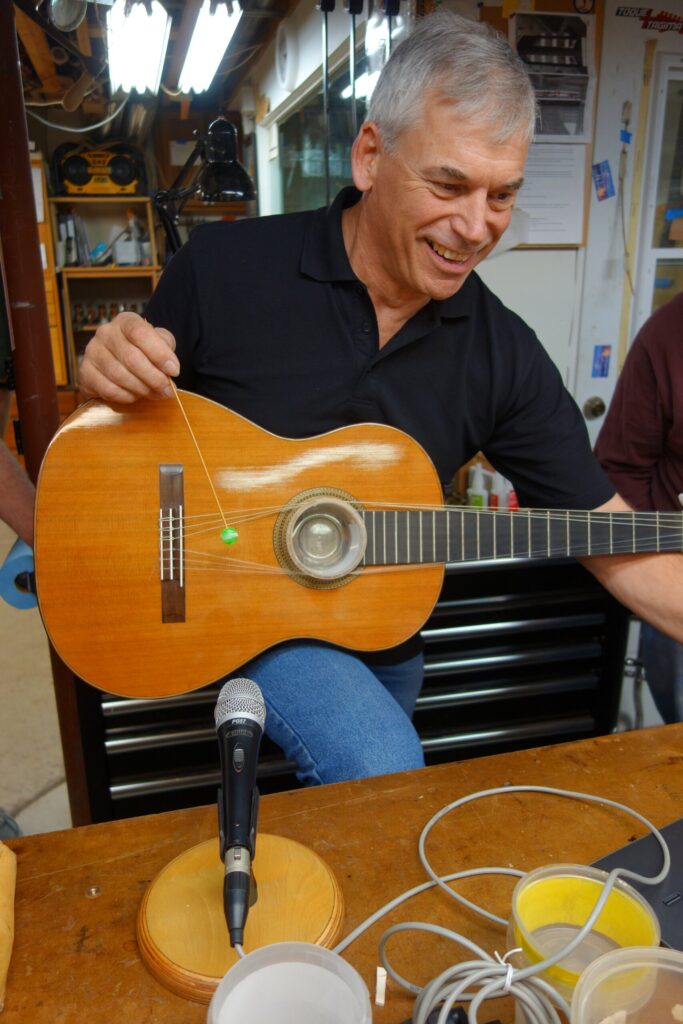 I've run the Modal Tuning Course at Robbie O'Brien's place in Parker, Colorado six times as of 2019. People have frequently requested that I do a video of the course having heard about it but not being able to attend. This is NOT that video course! However, Robbie is a great guy and persuaded me to video the tests that I demonstrate in the Modal Tuning Course and that I use when I am designing and building guitars, so people can now see how the tests are set up and done, rather than just reading about them.
This video course will help you avoid technical setbacks and shorten your learning curve when setting up the hardware and software needed to capture frequency response curves. It shows you how to measure the monopole mobility (responsiveness) and other critical performance indicators of your guitar. You can learn how to do all of the major tests that I do while building my guitars.
The video course is not meant to substitute the information contained in the books, but rather facilitate the understanding, setup and execution of the tests described in the books.
Learn about:
How to set up microphones for testing
How to install and structure Visual Analyzer software on your computer.
Learn how I made my custom signal generator
Tap testing for frequency response curves
Using Chladni patterns to verify modes of vibration
Measuring material properties
How to determine soundboard thickness
How to measure monopole mobility
How to measure bridge rotation under string loads
The introduction to the course can be viewed for free below.
The rest of the course is being kindly hosted by Robbie O'Brien and can be accessed via his website here.
Podcasts

Talking Acoustics
Matthew Ottley is a professional acoustician. He has produced a series of podcasts in which he interviews people in the world of acoustics who have piqued his interest. Matthew looked me up in March 2018, and recorded around 75 minutes of an in depth discussion about the design and function of guitars. If you'd like to listen, here it is: Trevor Gore interviewed by Matthew Ottley for Talking Acoustics.
Luthier on Luthier
Amongst the cognoscenti I was fortunate enough to meet when I was in Parker, Colorado in 2019 was the very eminent Michael Bashkin. He asked if he could interview me for his Luthier on Luthier series of podcasts that he has conducted in conjunction with the Fretboard Journal. I was pleased to oblige. We had about an hour of wide ranging discussion about my journey from engineer and boat builder to guitar maker and author. Not the usual way into guitar building! You can download the podcast from here.